KINGSTON, Jamaica, CMC — There will be no long wait for the results of the probe into an incident between Reggae Boyz head coach, Winfried Schaefer, and a member of the local press corps last weekend.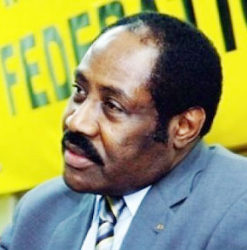 Jamaica Football Federation president, Captain Horace Burrell, said he was hoping to have the investigation wrapped up quickly, especially with the Caribbean Cup qualifiers approaching next month.
"[It will be sorted] very soon because you can't leave that hanging," Burrell was quoted as saying.
"Jamaica is going to be involved in the Caribbean Cup and that is just on our heels, so we have to be able to participate in that competition and hopefully not do like we've just done."
The 66-year-old Schaefer found himself at the centre of controversy last Saturday following Jamaica's return from Panama City from a 2-0 defeat to the hosts in the CONCACAF fourth round of the 2018 World Cup qualifiers.
Media reports said after refusing an interview to a RJR News cameraman, Schaefer subsequently returned to unplug the journalist's cable during an interview with team manager Roy Simpson.
Following a formal complaint from the Press Association of Jamaica  and the RJR Group, the JFF launched a probe into the incident, and also asked Schaefer to stand down for Tuesday night's final qualifier against Haiti at the National Stadium here.
Assistant coach Miguel Coley took over the reins for the game.
The incident ensured an even more chaotic end to Jamaica's qualifying campaign as they slipped to a 2-0 loss to the already eliminated Haiti, leaving them bottom of Group B on four points with a single win from six outings.
Around the Web