Georgetown Captain Chris Barnwell admitted that the team will need to put in double the work after rain washed out day one in their 3rd round Jaguars Franchise League 3-Day match against East Coast.
Yesterday's opening day was unfortunately called around 14:30hrs without a ball being delivered, as the recent passage of heavy rain continued to ravage parts of the country.
With an entire day lost to rain, Georgetown who have 10.6 points and are hovering around the sixth place position, will now have to up the ante over the remaining days.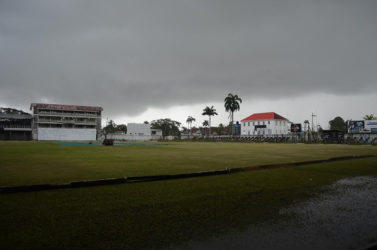 Barnwell told Stabroek Sport yesterday that he was a bit disappointed with the result of the first day but acknowledged that the task is now a bit more difficult with just two days left.
"I would have loved to start the game today, but the weather had the final say and there are still two days to go in the game, so hopefully we have some good weather".
Regarding the reduction of time which creates a huge disadvantage for both teams, the skipper indicated that an even more positive approach will be required.
"Well with two days remaining we would have to play smart and aggressive cricket in order to get an outright win", he noted.
Whilst Georgetown have not been hitting top gear so far, some of their key players; Robin Bacchus, spinners Gajanan Suknanan and Devon Lord, along with the skipper himself have been finding form over the last few rounds. Acknowledging the workload which could commence today, weather permitting, Barnwell said he's trusting his men to come good. "The batsmen would have to put up a good score on the board and then my bowlers would have to take 20 wickets".
Day two's action is expected to bowl off at 9:30hrs today.
Around the Web