Michael Anthony kicked off the month of September in fine style yesterday, winning the feature 35-lap event of the 16th Degree sponsored 11-race programme at the National Park.
The Team Evolution rider out sprinted fellow national wheelsmen, Raphael Leung of WS United and Paul DeNobrega (Team Alanis) in a thrilling three-man finish to take the spoils of the event.
Chris Griffith, last year's winner, Junior Niles and Paul Choo-We-Nam filled out the top six.
Anthony who won his seventh race for the season, completed the exciting criterium event in a brisk one hour, 16 minutes and 28 seconds in perfect conditions for racing.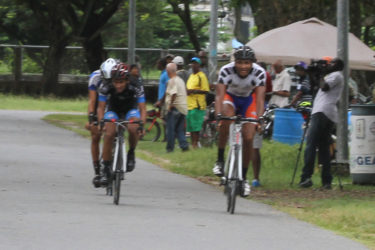 He also carted off two sprint prizes. However, four went to his break away mate, Griffith, while one apiece went to Niles and DeNobrega.
The top five finishers broke away from the 28-man starting peloton after the first lap and managed to establish an unassailable lead with every turn of their pedals.
These five riders would then journey together until the 32nd lap. At this point Anthony, Leung and DeNobrega changed gears and formed a three-man lead pack which remained together until the finish line was in sight.
Anthony however threw team work out the window and stole the day by producing a dominant sprint for a fine victory by a few bike lengths.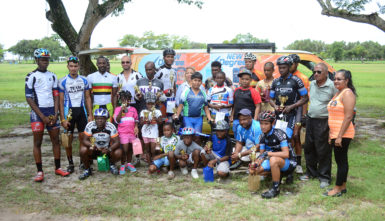 He has the opportunity to up his win total today when the cycling season continues at Wales from 08:00hrs where the Powerade 30-mile road race will be contested.
Other winners yesterday included: John Niles (BMX 6-9), Zab James (BMX Boys 9-12), Thuran Garbarran (12-14 BMX Boys), Andrew Hicks (Juveniles), Junior Niles (Veteran U-50) (Keith Fernandes placed second) and Kennard Lovell (O-50). The top three Mountain Bikers were: Keon Thomas, Jude Bentley and Shane Bourne from Chelsea Park, Mahaica.
At the completion of the event, its organizer, Hassan Mohamed congratulated the cyclists for making the day a success and also thanked the sponsor for being onboard.
Gemma Williams on behalf of DeSinco Trading made the presentations and brief remarks following the incident free fixture.
Around the Web