NEW YORK,  (Reuters) – Germany's Angelique Kerber began her reign as world number one in imperious style battling past a determined Karolina Pliskova 6-3 4-6 6-4 to win the U.S. Open final yesterday and claim her second grand slam title of the year.
Kerber, who officially takes over from Serena Williams as the world's top ranked player tomorrow, underlined her number one status displaying the heart of a champion as she fought off a fierce challenge from Czech 10th seed Pliskova on a steamy afternoon at Arthur Ashe Stadium.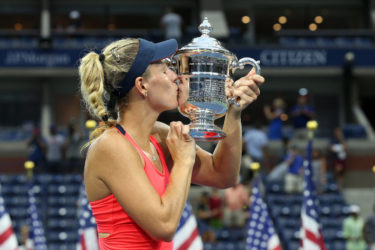 The 28-year-old began the grand slam year beating Serena Williams to lift the Australian Open title and celebrated again yesterday rallying from a break down in the third.
Second seed Kerber fell onto her back when a wilting Pliskova hit a forehand into the net to end two hours and seven minutes of compelling high-quality tennis.
"It's just amazing," a beaming Kerber told an adoring crowd. "I won my second grand slam in one year. That's the best of my career.
"Actually just incredible.
"When I was a kid I was always dreaming to be the number one player in the world and win grand slams and today is the day I won my second grand slam here, especially in New York. I'm the number one player on Monday.
"All the dreams came true this year."
Pliskova, who arrived at Flushing Meadows with the reputation of grand slam under-achiever having never before been beyond the third round of the major, shed that label by making it all the way to the final and taking on back-to-back world number ones.
After beating top ranked Serena Williams in the semi-finals to end the American's record-equalling 186 week stay at the top of the rankings, Pliskova faced her successor in the final.
The match opened with Kerber breaking a jittery Pliskova and ended the same way.
With Kerber closing in on a straight-sets victory, Pliskova finally made a breakthrough sailing a reflex lob over the second seed that landed on the line to secure her first break in five chances and a 4-3 lead.
Pliskova served out to even the match, the first time the entire tournament that Kerber had dropped a set.
Play remained tight in the third with an increasingly confident Pliskova getting the early break to go up 3-1.
But Kerber, on her first break chance since the opening set, took quick advantage of her opportunity breaking back at 3-3.
By now the towering Czech, beginning to wilt in the punishing conditions, bent over her racket at the end of every point.
Kerber, sensing an opening, stepped up the pressure and pace getting triple break point at 5-4 and closed out the contest on the first match point.
Around the Web