Caribbean 11 years and Under gold medal winner Kaysan Ninvalle yesterday inked a lifetime membership contract with the Providence, East Bank Demerara-based gym Fitness 53.
The rising star claimed the country's only gold medal at the recent cadet and Pre cadet table tennis championships in Jamaica when he overcame Trinidad and Tobago native Jalen Kerr 11-8, 9-11, 11-7, 9-11, 11-9 in the boys 11 years and under final at the National Indoor Sports Arena in Kingston.
Former West Indies batting ace and proprietor of the facility Ramnaresh Sarwan, yesterday congratulated Ninvalle on his accomplishment declaring that fitness was important in any sporting career.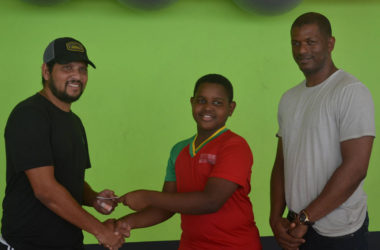 Sarwan added that young Ninvalle was welcome to improve on his physical traits at his gym.
He pointed out that there was no substitute for hard-work and said that he hopes the youngster can follow in the footsteps of previous caribbeam champs such as Sydney Christophe.
Guyana Table Tennis Association (GTTA) President Godfrey Munroe thanked Sarwan for the gesture which he said will go a long way towards Ninvalle excelling in the sport.
According to Munroe, the rising star is one of the country's best prospect and could possibly be an Olympian in the future.
"We have recently got good news from the ITTF that he has been selected to participate in a World Hopes training camp in October from the 18-25 in Lima, Peru and he is one those prospects that could represent  us in future at the Olympics," Munroe added.
This gesture follows the recent presentation by Gizmos and Gadgets of a Samsung Galaxy S7 Edge cellular phone as well as the five year scholarship from Chase's Academy.
Around the Web