Top veteran  cyclist Junior Niles powered to his first victory of the season yesterday when he blitzed a field of Guyana's best wheelsmen to claim the Powerade 25-mile road race in a thrilling four-man sprint finish.
In ideal conditions for racing on the roadways of West Demerara, Niles stopped the clock at one hour and eight minutes for the event which pedaled off at Wales, proceeded to Blankenburg (via Parfait Harmonie) and returned to the Schoonord origin for the finish.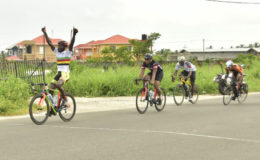 The Team Coco's elder statesman led Chris Holder, Paul DeNobrega and Ralph Williams into the top four while teen club mates, Andrew Hicks and Raphael Leung filled out the top six.
Niles also took home the winner's trophy in the veteran category.
While Niles took home the hardware, Shaquel Agard, who almost soloed to victory from the smoke of the pistol, took home five of the six sprint prizes. The other went to Hicks.
Quick Results
Seniors
Junior Niles
Chris Holder
Paul DeNobrega
Ralph Williams
Andrew Hicks
Raphael Leung
Juniors
Andrew Hicks
Raphael Leung
Nigel Duguid
Veterans
Junior Niles
Ralph Williams
Ian Jackson
Mountain Bike
Keon Thomas
Ozia McAulay
Seon Budhan
Around the Web