BRIDGETOWN, Barbados, CMC- The Jamaican soldier, who was a surprise call-up for the upcoming West Indies A team tour of Sri Lanka, has described his selection as "awesome" and says he is "pumped up"  and "ready" to make use of the opportunity.
Reynard Leveridge, a towering six-footer, serving in the Jamaica Defence Force for the past seven years, received an early birthday gift when he was included on a 14-member squad for the tour.
Leveridge, who turns 26 tomorrow and who has never played first class cricket, has been preparing for the tour with the squad which will be led by Barbados' Shamarh Brooks.
"Getting pick for the West Indies A team and on my birthday, its coming up Thursday the 15th, I am ready. I am pumped up," said the rookie Jamaican fast bowler who caught the eye bowling with pace and hostility.
"It is just an awesome feeling being here on my birthday away from home. Away from family but I don't mind. It is my dream to be in this camp and I really appreciate it."
Leveridge created a huge impression on many who saw him bowl in the nets earlier this year to India and West Indies test players, ahead of the recent Sabina Park Test.
He has been a consistent wicket taker in Jamaica club matches over the last two years, and would have made the Jamaica first class team last season after he took the most wickets in trial.
However, he was ruled out with a side strain.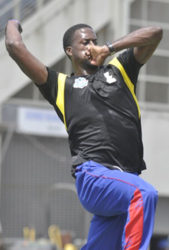 "It was really a test and I enjoyed it," said Leveridge referring to his experience bowling to Test players.
"I am bowling to the top batsmen in the world and to stand out at that level is just an awesome feeling."
Leveridge had a late start to his cricket career after selectors noticed him during a camp held by the Jamaica Defence Force about two years ago.
After basic training he began playing for the army and helped them secure back-to-back senior club titles.
"While working on the test match India versus the West Indies I met Ian Bishop. He was telling me that he was hearing a lot of good things. He saw me bowl a couple times and he told me I should just keep working hard," said Leveridge, a former Jamaica national hockey player since the age of 15.
"My plan to get into the West Indies team is to put out my best. Stay strong. Stay focused. Keep fit. A lot of training because it is a lot of work getting to the test level, the international level".
West Indies A will play Sri Lanka A in three four-day games from October 4-21 and three one-dayers from October 24-30.
Around the Web