Young Achievers sealed their fourth win in the Stag Beer sponsored West Demerara Football Association (WDFA) Senior League, defeating Stewartville 3-0 Monday at the Den Amstel ground.
Speedy forward Lloyd Prince recorded a brace on either side of halftime netting in the 15th and 85th minute. He was supported by Eon King who scored in the 54th minute.
With the win, Young Achievers are in third position on 12 points while the struggling Stewartville side remains in sixth place on seven points.
While the wet conditions underfoot affected the fluidity of the affair, the opening goal came after Prince raced away from his marker to latch onto a through pass and finish past the advancing goalkeeper from inside the box. That proved to be the only conversion as the score remained unchanged entering the second half. It was at this point that King made his presence felt, slotting his effort across the body of the custodian into the far corner after collecting a cross from the right flank inside the left of the box.
The fixture ended as it started with Prince scoring, this time to clinch his second. The conversion was similar in nature to his opening goal as he once again raced away from the backline to receive a through pass, before slotting past the onrushing goalkeeper following another one-on-one situation.
Meanwhile, league leaders Den Amstel was held to a scoreless draw by Golden Warriors. Den Amstel remains in the top spot on 16 points while Golden Warriors maintain ninth place on four points.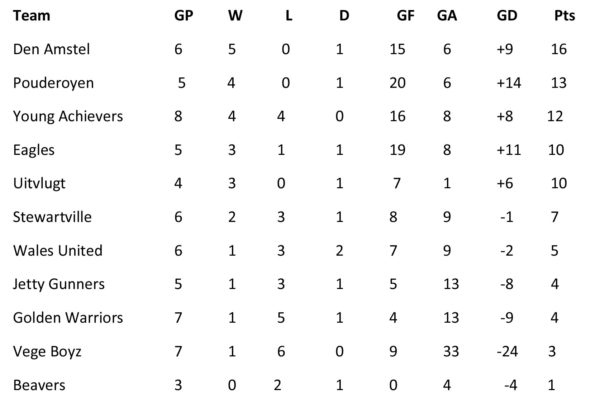 Around the Web