Ramnaresh Sarwan, one of the most prolific West Indies batsmen over the last decade, formally hung up his gloves yesterday as he called time on a remarkable career which began under a tree as a student of the Stella Maris Primary School.
The 36 year-old who has been one of best batsmen in the history Guyana and West Indies cricket, announced his retirement from all forms of cricket, choosing to do so at a humble ceremony at his former primary school on Woolford Avenue at Thomas Lands, Georgetown.
'Sars', as everyone in the cricketing world calls him, believed that it was important for him to sign off from the sport he loved so dearly, at the venue of where it all began. Some of his old schoolmates, teachers, along with Director of Sports Chris Jones, District Education Officer (DEO) (Primary) Adrian Elgin among other well-wishers were there to share the moment.
The proceedings commenced with an opening prayer, followed by poems, songs, and brief skits, courtesy of the teachers and students of the school who celebrated the life achievements of a past pupil who had done a lot to help put the school and his country on the map.
Mrs. Natalie Author, a special guest at the ceremony, was the Headmistress when Sarwan attended Stella Maris, said that she was happy Sarwan had chosen to officially sign off from cricket at the place where he got his first opportunity to play.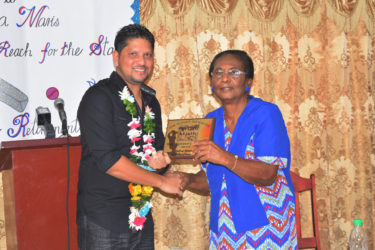 She added that while he was a good cricketer during his time at the school, he was also a good student and presented him with a plaque of appreciation on behalf of the school, as they collectively wished him the best in all his future endeavors.
Jones during his speech, pointed out that Sarwan had done more than just reach for the stars during his professional career as he reminisced on a time when they competed during their school years to see who the better player was. Now serving as a member of the National Sports Commission (NSC), Sarwan has hatched a magnanimous plan unknown to most.
According to Jones, Sarwan has been refusing his monthly stipend from the NSC, the right-handed batsman having decided that it would be better to utilise the finances to promote sports and assist an athlete of the former cricketer's choice. He said that it was important for youngsters to emulate this individual who has been a successful entrepreneur even after his professional career came to an end.
The Director noted that while the naming of the Guyana National Stadium, Providence is in its final stages of approval, he strongly believes that Sarwan along with other top Guyanese players of the past are deserving of having their names on parts of the venue.
A veteran of 87 Tests and 181 One Day Internationals (ODI), Sarwan took to the podium to deliver the feature address on his emergence as a young batsman who first got his chance as part of the Stella Maris Under-12 cricket team.
The ex-Guyana Amazon Warriors Captain said his journey to superstardom began under a tree in the Stella Maris School yard during one break (recess) where he faced a few of the school's best bowlers for about 10 minutes without being troubled.
Following a review of his successful stint at the youth level, the Wakenaam-born Sarwan relived his Georgetown Cricket Club (GCC) days as well as his time at the Malteenoes Academy where he credited former Guyana youth manager, the late Patrick Legall for helping shape his career.
The former Guyana Under-19 Captain recalled former Guyana/West Indies  batsman Keith Semple helping him channel his positive approach from the nets to the cricket field, while hailing  past West Indies all-rounder Roger Harper as the man behind his transition from the West Indies 'A' to the senior team.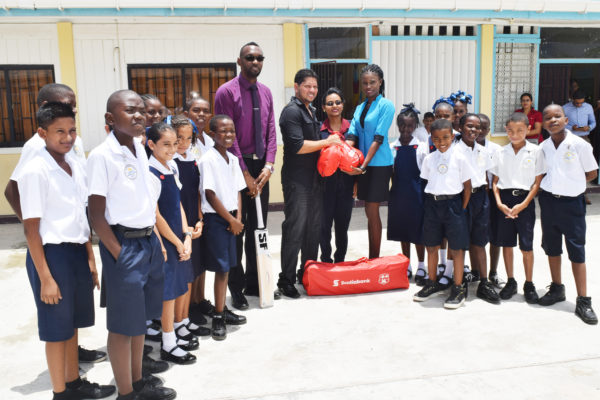 "Roger Harper really molded my career, I was very fortunate to have him by my side when I made the transition from 'A' team to the West Indies team. The Coach molded me from when I was 17 until I was 23, he taught me the technique that remained the same throughout the years".
Another influential former Guyana and West Indies player who Sarwan acknowledged throughout his career was Carl Hooper who was the first to predict to him when he was just 14 years-old that he would play International cricket.
Reliving some of the highlights of his career, Sarwan who was once rated as the best finisher in ODI cricket, rated his match-winning 105 against Australia in Antigua in 2003 ( WI scored 418 to win), and his personal best of 291 versus England in Barbados 2009, among the best innings of his career.
"I'm pleased with my contribution to cricket and I think I had more cricket left to offer before the abrupt end of my career", said Sarwan who just wants to be remembered as a "Team person".
Speaking about some of his battles with the opposition over the years, the ex- Leicestershire batsman identified two bowling legends; Sri Lanka's off-spinner Muttiah Muralitharan and Aussie pacer Glen McGrath as the toughest bowlers he faced.
In terms of his batting partners, two West Indian World Class legends, Shivnarine Chanderpaul and Brian Lara were mentioned as players who helped to contribute to the success of his game.
"Lara was in a different class by himself, he thought me how to win matches, he also guided me in terms of which bowler I should and shouldn't take on. Shiv is a different player he is a bit more conservative and would tell you to be patient, but both have been very supportive to me".
As a successful businessman, Sarwan said he would often speak to his younger mates like Test opener Leon Johnson, Vishaul Singh, Rajendra Chandrika, Chris Barnwell and others, on how to prepare for a life after cricket as well as giving them tips on being wise with their investments.
Having played his last match for the West Indies in 2013, Sarwan finished a sterling career with 15 Test tons, third on the list of Guyanese Test centurions, parted with the  words "I just want to thank the Caribbean people for their support over the years, my parents and wife, as I inform the public that I've officially retired from International and first class cricket".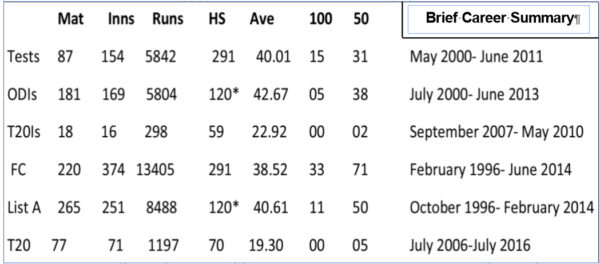 Teams- West Indies, Gloucestershire, Guyana, Guyana Amazon Warriors, Kings XI Punjab,
Leicestershire, Stanford Superstars, Trinbago Knight Riders
 Achievements
– West Indies Captain 2007-2008
Youngest West Indian to reach the 5000 runs-28 years, 228 days-with a century against England in Jamaica in 2009.
Captain of the 2006 Guyana T20 team which won the inaugural Stanford T20 tournament
Member of the West Indies ODI team which won the 2004 ICC Champions Trophy
Tied for the most wickets (16) with Zimbabwe's Mluleki Nkala in the 1998 Under-19 Cricket World Cup
Member of three Guyana Under-19 winning teams (1995/1996/1997). Captain in 1997 and 1998
One of 11 Guyanese to score a century in Regional U19: 125 vs Windwards at Enmore,Guyana
Around the Web