A test of natural strength will be on display tomorrow when the Guyana Amateur Powerlifting Federation (GAPF) stages its Raw championships at the Critchlow Labour College (CLC).
Tomorrow's competition will most likely be the largest local competition on the powerlifting calendar with the likelihood of eclipsing the Senior Nationals slated for November.
Athletes are now finding greater interest in the format of the sport that requires less performance-enhancing attire and guarantees more of a level playing field for all athletes in participation.
In excess of 45 gladiators have registered to compete when action gets underway at 10:00hrs.
The competition is open to all lifters and will not have a Novice or Intermediate category but will, instead, have various categories such as Masters 1, Masters 2, Masters 3 and Masters for male and female lifters.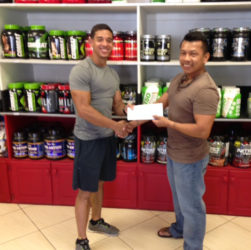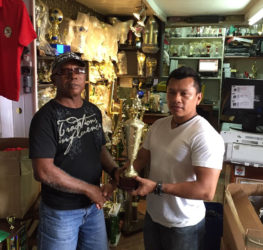 There will be Sub-Junior (15-19) and Junior (20-24) and categories for males and females. It is the federation's intention to encourage all fitness enthusiasts to be part of the sport of powerlifting and as such there will be a relaxed dress code with regards to lifters' attire when competing. Spectators can look forward to an entertaining day of Raw/Unequipped Lifting.
The meet will usher the return of 'Big' John Edwards, Guyana's most decorated powerlifter, who was sidelined from the Masters Championships in June due to injury.
There will be several youngsters vying for top honours in the various categories. Carlos Peterson who has made his name as the Overall Novices and Intermediate Best Lifter in the unequipped category is also expected to be participating in this event. Lisa Oudit, Intermediate 72kg Women's Champion is also expected and has every intention of 'bettering' her previous performance.
A large contingent from Life Gym, led by national lifter, Osmond Mack, is also expected to participate. The likes of Neesa Bhagwandin, Tinesha and Jacquelyn Toney will, definitely heat up the platform with the superb performances for which they are known. The competition will also see strong men from the Ancient County vying for top honors with lifters being led by Masters competitor, Farouk Abdool who was unable to complete his last competition due to an injury sustained at his first squat. An epic battle between Abdool and Edwards is on the cards.
The federation is encouraging spectators to come out to be entertained by this newly trending category of lifting that has taken the powerlifting world by storm.
Tickets for the fixture is just $500.
The Trophy Stall, Buddy's Gym and Fitness Express are the major sponsors on-board.
Around the Web