In an effort to halt their dismal performances in the Guyana Football Federation (GFF) Elite League, Bourda-based unit the Georgetown Football Club (GFC) has acquired the services of Brazilian coach Fabiano Agrippino.
Speaking at a welcome ceremony yesterday at the club's North Road location, manager of the club, Faizal Khan, said he saw the Sao Paulo native as the individual to lead the club into the new era adding that the job was his for as long as he wishes.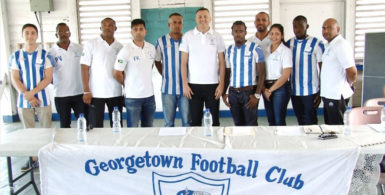 "Today we are officially welcome our new head coach to go into a new dawn in club football here in Guyana. Mr. Fabiano Agripino we welcome you sir and we look forward to you joining us throughout our first team endeavours, our soon to announce reserve or development team endeavors and our under-17's, under-15's, under-13's & under-11's," said Khan.
Agrippino, during a brief address, said that owing to his many years in the sport, he brought different concepts and strategies, revealing that his mission is to compete and develop the quality of the players.
The club also disclosed the addition of three players including a Brazilian free agent known as Renato. The other two were Kevin Beaten and Jamal Codrington.
Utilizing his translator Anjelie Gabriella, due to his unfamiliarity with the English Language, Renato said:"First of all I would like to thank God for the opportunity to play for GFC, thank Mr. Faizal Khan for the opportunity to be here. I'm very happy with the Guyanese people, I feel welcomed and warm in Guyana, I hope I can give my best and we can win a lot of games."
GFC finished the League Finale section of the event in the cellar position with five points. In the League Genesis aspect, they finished in the penultimate position of the eight team tourney on 12 points.
Around the Web