The 2016 edition of the traditional Indigenous Heritage Sports officially commenced yesterday at the Everest Cricket Club ground on Carifesta Avenue.
The event which is a staple of the Ministry of the Indigenous Peoples Affair and is expected to attract over 600 athletes, was opened during a simple ceremony featuring Director of Sport Christopher Jones and Minister within the within the Indigenous People's Affairs Valerie Garrido-Lowe.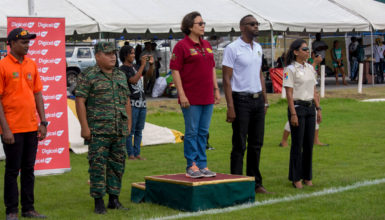 Minister Garrido-Lowe during the feature address said she envisions the respective regions have a playoff before the actual event in the future so as to better prepare the athletes.
"Let's see some of the talent that you have that we will know exactly where to focus our attention, in which particular region to identify whether it is archery, whether it's football, track and field, football or swimming," she said. Meanwhile, Jones said that the event can be used as a scouting ground for undiscovered talents, declaring: "We're looking at the Heritage Games to be a step upwards, to have more competition and to have many more teams to come out, those who have not had a chance to showcase their skills."
The event, which is being staged under the theme Our Culture, Earth's Future- Save the Environment, live the indigenous way', commenced yesterday with football while today archery, cricket and volleyball will take centre stage.
Around the Web