Usual suspects, Compton Caesar, Chantoba Bright and Keniesha Phillips were some of the standout athletes when the Athletic Association of Guyana staged its Inter Guiana Games (IGG Trials) yesterday at the National Track and Field Centre at Leonora.
Bright hopped, skipped and jumped 12 metres to easily win the girl's triple event jump ahead of Kelanie Griffith (10.81m) then returned to take another gold in the long jump with a leap of 6.05m.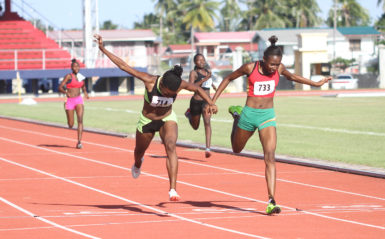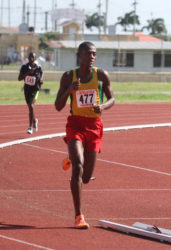 Griffith again finished second (5.15m) while Toyan Raymond was third with a jump of 5.14m.
Phillips, the fastest local female student athlete of all time was in usual dominant form yesterday and recorded a sprint double.
She blasted to victory in the girl's 100m in an eye popping 12.09s ahead of Onasha Rogers (12.39s) and Toyan Raymond (12.49s). Phillips then bested the field in the 200m in a brisk 25.08s.
Caesar (21.57s) exploded out of the blocks and ran a superb turn en route to the boy's 200m gold medal. The tall, Lindener finished ahead of Tyrell Peters (22.06s) and Daniel Williams (22.07s).
A slow start however put paid to his efforts in the marquee 100m event as Peters turned the tables on him for an upset victory in 10.57s. Caesar (10.61s) and Stephan Smith (10.99s) snared the silver and the bronze medals.
Anfernee Headecker was also in fine form yesterday. The athlete from the GDF club won the boy's 800 and 1500m races.
Other winners on the track yesterday included: Avon Samuels (girl's 400m), Stayon Wilson (boy's 400m), Odwin Tudor (boy's 5000m) and Shaqua Tyrell (girl's 1500 and 3000m).
Around the Web