Guyana's premier cyclists will unchain their competitive juices and renew their cycling rivalry tomorrow with the staging of the 14th annual Victor Macedo memorial road race.
Organized by the Flying Stars Cycle Club, the grueling 80-mile trek from Georgetown to Linden is scheduled to begin at 7:30am.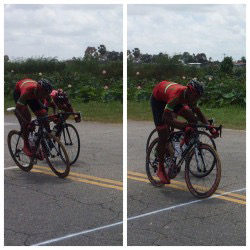 Tomorrow's race commences with a rolling start from Peter Rose Street, Queenstown to Homestretch Avenue where it will official begin.
Senior and junior cyclists will then proceed to Dora on the Linden Highway while the veterans, juveniles and Mountain Bikers will journey to the hill after the Splashmin's Fun Park. All riders would then return to finish on Homestretch Avenue.
Team Coco's Jamaul John narrowly edged his fellow junior cyclist, Raphael Leung to win the 13th edition of the road race while Warren '40' McKay (Veteran) and Keon Thomas (Mountain Bike) reigned supreme in their respective classes.
This year, however, there will be a new champion in the junior division as John has since graduated from those ranks.
Around the Web