Yesterday was a great day on the saddle for Junior Niles as the veteran wheelsman sprinted off with the spoils in the feature 35-lap race of the Laparkan-sponsored criterium fixture at the National Park.
The Team Coco's captain, who completed the race in one hour, 18 minutes and 25 seconds, also placed second in the veteran's under 50 five-lap race.
In the marquee event of the 12th annual fixture, Niles bested break away mates, Mark Harris (Team Coco's) and Paul Choo-We-Nam (Team Alanis) in a thrilling sprint finish while his club mate, Hamza Eastman, Shaquel Agard and Kemuel Moses completed the top six positions.
The top three, who shared the six primes, broke away in the fourth lap and never took their feet off the gas.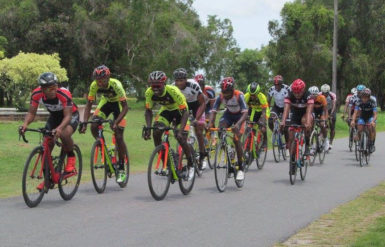 They eventually went on to lap the entire field of 22 other riders 16 laps later to leave little doubt as to which cyclists would occupy the podium.
The trio rode together until Niles changed gear at 150m before the finish line. Blessed with superior sprinting prowess, the 43-year-old Niles went on to win by about 10 bike lengths ahead of Harris as Choo-We-Nam stayed on his saddle content that third place was assured.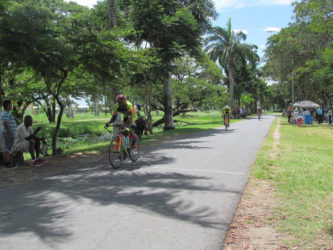 It was Niles' second feature win of the season in consecutive races. He won the Powerade 25-mile road race at West Demerara on September 11 in a thrilling four-man sprint finish.
Niles' son John also won the BMX Boys 6-9 year, three-lap race.
Before the feature, Lennox Jackman won the five-lap event in 12 minutes and 45 seconds ahead of Niles and Ralph Williams.
Other winners included Kennard Lovell (Veterans Over 50 years), Brighton John (Juveniles), Ozia McAulay (Mountain Bike) and Thuran Garbarran (BMX Boys 12-14).
Niles will look to make it a hat-trick of wins today when the 14th annual Victor Macedo road race pedals off this morning at 7:30 hrs.
Around the Web