(Reuters) From the moment Toby Roland-Jones uprooted the leg-stump of Ryan Sidebottom it was impossible to wipe the smile off the faces of any Middlesex fan or player.
The county hasn't won the title since 1993 and the manner in which they sealed the famous victory will be a moment long etched into the memories of those who saw it.
Middlesex have remained unbeaten in the County Championship all season, and on a home surface not conductive to bowling teams out in four days, their achievement can be considered even more impressive.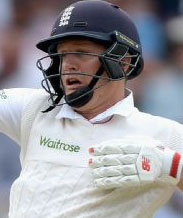 Led by James Franklin, the Australian struggled to express his gratitude for the squad: 'These boys are awesome; I can't say enough. To get through 16 gruelling rounds of cricket and be champions is testament to the skill we have in this squad.
'Not every game goes your way, but you have to find a way to get over the line after 16 rounds of cricket, it's just awesome.'
A title winning campaign is built on the back of special moments, one of which was Jon Simpson sealing a monumental victory at Somerset with a six.
The much improved wicket-keeper couldn't praise the bowling attack that he has kept to all season enough: 'They're tremendous. Tim Murtagh up to is as good a new ball bowler you will get in the country. Back that up with Roland-Jones who has been phenomenal all season and has taken 50 wickets across the campaign.
'Then to back them two up we've got Steve Finn which is testament to the strength and depth we have. Ollie Rayner has also had a fantastic year and our captain, James Franklin, who has propped that attack up.'
Over 20,000 people turned out at HQ over the final four days of the season to witness the title decider. Something that man of the moment Roland-Jones can't believe:
'As far as the Yorkshire support goes that is unreal. They dominated most of the game, and it was only late on when we found ourselves in the mix did it turn our way.
'It's great to have so many people come out and support us, and when things got tough at the end they really pulled us through.'
Fittingly, the title decider at Lord's was the thriller the season deserved, with both teams settling for nothing less than a win.
Whilst Roland-Jones is rightly collecting the plaudits, praise must also be reserved to Nick Gubbins who scored over 1400 runs across the season, including over 200 in the title decider.
Speaking after the game, he revealed his mind set over them last four days: 'It's not tough to stay in as it is quite slow, but it is tough to score runs. You just have to have your game plans and hang in there, but stay nice and positive, obviously you need luck in cricket and I rode mine in this game.
'In the end we set them a total they thought they could chase down, and all credit to them they tried to, they played the game.'
At one stage on the third day, and with Yorkshire dramatically inching to the total of 350 which secured them a final batting point, it looked as if the game could potentially fizzle out.
Middlesex's big spin bowler, Ollie Rayner, was tasked with bowling after a downpour that sent the players off with the score on 349: 'I enjoyed it! It added to it and I had a bit of a giggle because I was bowling the first over after the rain.
'It was all good though, it kept the game alive in the end, if they didn't get that they probably would've finished third either way.
'It made a game of it though and I think we put on a show. It's been a great turn out this week, it's been unbelievable'
Around the Web