Before the start of the sixth annual Courts 10km event yesterday, Cleveland Forde had won the flagship race four times.
When it was over, the 'Little Kenyan' had a handful of titles.
Forde, who was forced to sit out in 2014 due to chikungunya symptoms, led arch rivals Winston Missigher and Cleveland Thomas (2014 winner) across the line yesterday to continue as the star of the annual event.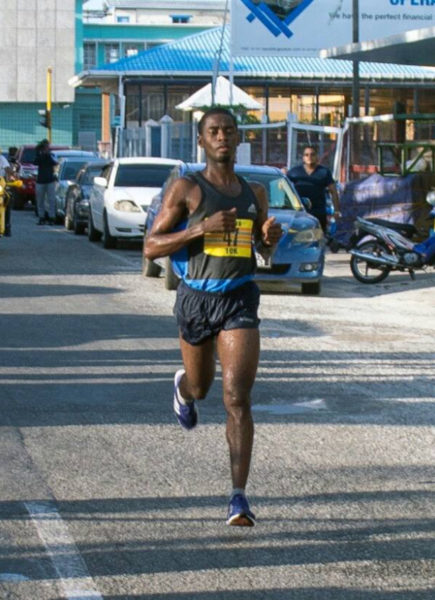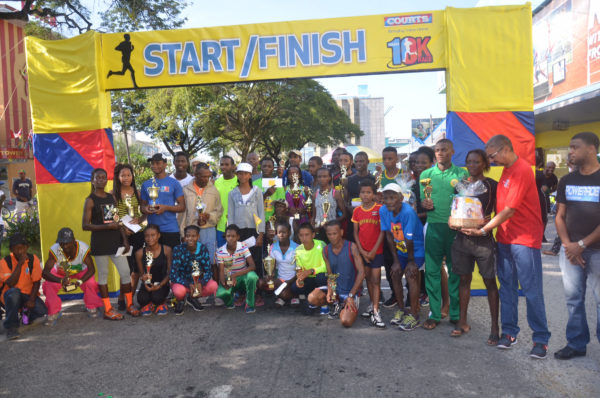 Nathaniel Giddings and Odwin Tudor completed the top five positions for the event which started and ended in front of the Main Street company with Conversation Tree being the turn back point.
Forde, who has a firm grip on the local road race circuit, took home another champion's trophy and the $100,000 first prize. Not bad for less than 33 minutes of work. 32 minutes and 40 seconds to be exact. His winning time was some five seconds faster than his performance last year.
The ever improving Missigher completed the trek in 33 minutes and 15 seconds, while Thomas clocked 33 minutes and 26 seconds.
Déjà vu
While Forde won his fifth Courts title, it was six from six for US-based Euleen Josiah-Tanner on the distaff side.
Since the event's inception in 2011, she has always occupied the top spot, only thing that changes in the script is the names of the runners up.
Yesterday, the 42-year-old grabbed gold in 40 minutes and 12 seconds, leading teen sensation, Claudrice McKoy (41m:42s) and Ashanti Scott (41m:56s) into the top three.
Tudor (junior boys), Joanna Archer (junior girls), Ian Archibald (master's 40-54), Cyrleen Phillips (women 35 and over) and Llewelyn Gardner (master's 55 and over) were also in the winner's (categorical) row.
Staff members of Courts participated in a 3km run which is a spinoff of the main race.
Teams from Crossfit Bel-Air, Genesis Fitness and Deputy Mayor of the city, Sherod Duncan were notable participants.
The organizers along with president of the athletic association, Aubrey Hutson, deemed the event a success, stating that it was perhaps the largest turnout in recent memory.
Around the Web