ABU DHABI, United Arab Emirates, CMC – Pakistan head coach Mickey Arthur said yesterday his side would be going for the jugular in the final Twenty20 International, as they chased a series whitewash against reigning World champions, West Indies.
West Indies produced back-to-back poor performances to slump to defeats in the opening games of the series last week and face Pakistan in the final game at the Abu Dhabi Zayed Cricket Stadium here today.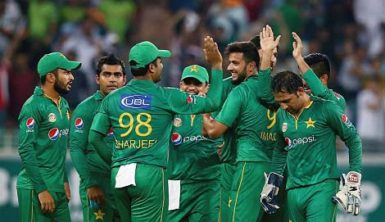 "We want to win it 3-0 and we want to be ruthless and one of the main thing around our team is the attitude, in the field, in batting and with the ball and that's a step in the right direction," the South African pointed out.
"Make no mistake we want to make it 3-0. We won't be satisfied if it's not 3-0 and sit in the dressing room and say we have won 2-1."
In the opening T20 International in Dubai last Friday, Pakistan bundled out West Indies for a disappointing 115 to pull off a convincing nine-wicket victory and were equally clinical the following day as they piled up 160 for four at the same venue to lay the groundwork for a 16-run win.
On both occasions, West Indies never looked the part while Pakistan appeared the superior side, and Arthur said he had been impressed by the "brand" of cricket his side had produced over the last two games. "Without a doubt it's the first step in the right direction, we set ourselves some realistic goals and targets," Arthur said.
"First of all we want to play the brand of cricket that is up with the task, we want players who can do the job and I think we went some way to finding out some players in this series."
Coming off their victory in a one-off T20 International over England in Manchester earlier this month, the series win for Pakistan has provided important momentum for a series which still includes three One-Day Internationals and three Tests.
And with the ODIs beginning Monday in Sharjah, Arthur said Pakistan could also be successful in that series if they continued playing in their current mould.
"We have a lot of work to do there in ODIs but if we keep working towards the aspects that we have identified that will make us a better cricket side, we will start playing the brand of cricket that's going to be conducive to success."
Around the Web