Max Walker, the tangle foot Australian seamer of the 1970s, has died in Melbourne after succumbing to cancer. He was 68.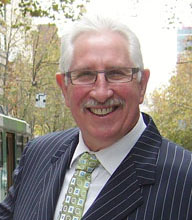 A key member of the successful Australian Test teams led by Ian and Greg Chappell, Walker was also among the breakaway group of players who took part in Kerry Packer's World Series Cricket from 1977 to 1979. Their stance fundamentally altered the shape of international cricket ever since.
Walker played 34 Tests for Australia, bowling into the wind opposite Dennis Lillee and Jeff Thomson in the memorable home summers of 1974-75 and 1975-76, when England and the West Indies were laid to waste.
He also stepped up notably on occasions when the aforementioned pair were injured or unavailable. Later in life he was a popular commentator and entertainer, publishing a string of comedic books on the game. (Cricinfo)
Around the Web