SHARJAH, United Arab Emirates, CMC – Beleaguered West Indies extended their miserable run when they slumped to a fourth straight defeat to Pakistan, losing the opening One-Day International by 111 runs under the Duckworth/Lewis method here yesterday.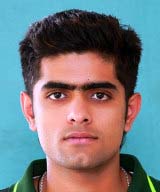 Chasing a revised target of 287 off 49 overs at the Sharjah Cricket Stadium, the Caribbean side once again produced an insipid batting effort and were bundled out for a disappointing 175 off 38.4 overs.
Only Marlon Samuels of the frontline batsmen showed any enterprise with a top score of 46 while tail-ender Sunil Narine struck a cameo 16-ball 23 and opener Johnson Charles, 20.
They were the only three to pass 20 as left-arm spinner Mohammad Nawaz ripped apart the innings by grabbing four for 42 while seamer Hasan Ali claimed three for 14 to offer great support.
Man-of-the-Match Babar Azam had earlier slammed his maiden ODI hundred to help the hosts motor to 284 for nine, in a game reduced to 49 overs following a floodlights failure in the dying stages of the innings.
The 21-year-old right-hander hit 120 from 131 balls with eight fours and three sixes and was supported by dashing opener Sharjeel Khan who made 54 from 43 deliveries, with six fours and three sixes.
Wicketkeeper Sarfraz Ahmed chipped in with 35 while Imad Wasim got a run-a-ball 24 down the order.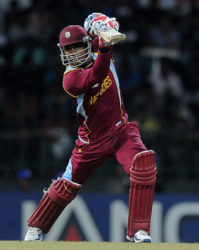 Medium pacer Carlos Brathwaite picked up three for 54 but his wickets came late in the innings with Pakistan already racing towards a challenging total.
The defeat follows an embarrassing whitewash in the preceding three-match Twenty20 International series which saw the Windies lose each game heavily.
Their hopes of re-discovering the winning touch would have been boosted when captain Azhar Ali nibbled at the first delivery of the game from fast bowler Shannon Gabriel, and was caught at the wicket by Denesh Ramdin without a run on the board.
However, Babar then anchored two stands to wrench the advantage away from West Indies and put Pakistan on top.
Firstly, he put on 82 for the second wicket with the attacking Sharjeel before adding a further 99 for the fourth wicket with Sarfraz, who faced 45 balls and counted a single four.
The left-handed Sharjeel provided much of the early momentum, twice stroking Gabriel for off-side boundaries in the fifth over before steering Carlos Brathwaite to the point boundary and clobbering him over the ropes at long-on, in the ninth over which leaked 12 runs.
In the next over, he struck seamer Jason Holder for a straight four and a six in taking 12 runs from the captain's fifth over, and raised his half-century in style at the end of the 14th over by smashing off-spinner Sunil Narine over long-on for six.
However, he perished in the following over from left-arm spinner Sulieman Benn, miscuing a slog to Narine at third man and with just 11 runs added, Shoaib Malik followed for six, taken at slip by Benn off Narine.
Stumbling at 93 for three in the 18th over, Pakistan recovered through Babar, who until then had played the anchor role. He reached his half-century off 74 balls at the end of the 25th over and then required only 45 more deliveries to raise three figures.
Sarfraz, mis-stumped on five by Ramdin off Benn in the 21st over, supported Babar until falling in the 35th over to Holder, and Babar was eventually sixth out in the 43rd over – brilliantly caught by Kieron Pollard running around the mid-wicket boundary.
Charles and debutant Kraigg Brathwaite gave West Indies a promising start when they posted 27 but they perished in quick succession thereafter, leaving a rebuilding effort to be undertaken.
As usual, Charles was positive, striking a four and a six in his 21-ball knock before pushing uncertainly at seamer Mohammad Amir and edging behind in the eighth over.
Brathwaite, who played and missed at Amir several times, eventually nicked Hasan Ali behind in the 13th over to end a 38-ball labour over 14 and when left-hander Darren Bravo was bowled by Nawaz for 12 in the 17th, West Indies were tottering at 54 for three.
Samuels then staged a brief recovering by putting on 35 for the fourth wicket with Ramdin who made eight.
The right-handed Jamaican made a quiet start before opening up to lift Shoaib for a pair of sixes over long on in the 22nd over while Ramdin stroked left-arm spinner Imad to the cover boundary. Two balls later in the next over, Ramdin loosely drove  Nawaz to Azhar at cover to depart in the 24th over and his dismissal triggered a slump as five wickets tumbled for 46 run in quick time.
Pollard holed out to deep point off Nawaz, Holder missed a drive and was bowled by Imad while Carlos Brathwaite (15) failed to negotiate one from Nawaz that spun sharply and hit off-stump.
Samuels was eyeing his 28th ODI half-century when he gave himself room to hit through the off-side and was bowled by left-arm seamer Wahab Riaz.
Tottering on 135 for eight in the 34th over, Narine and Benn entertained in a 31-run, ninth wicket stand off just 19 balls before Hasan Ali returned to polish off the innings.
SCOREBOARD
PAKISTAN
*Azhar Ali c wkp Ramdin b Gabriel                                     0
Sharjeel Khan c Narine b Benn                                             54
Babar Azam c Pollard b C Brathwaite                                120
Shoaib Malik c Benn b Narine                                                 6
+Sarfraz Ahmed c wkp Ramdin b Holder                  35
Mohammad Rizwan run out                                               11
Imad Wasim b C Brathwaite                                              24
Mohammad Nawaz c Holder b C Brathwaite                      19
Wahab Riaz run out                                                                       0
Mohammad Amir not out                                                       3
Hasan Ali not out                                                                           2
Extras (b1, lb3, w5, nb1)                                                            10
TOTAL (9 wkts, 49 overs)                                                       284
Fall of wickets: 1-0 (Azhar Ali, 0.1 overs), 2-82 (Sharjeel Khan, 14.2), 3-93 (Shoaib Malik, 17.4), 4-192 (Sarfraz Ahmed, 35), 5-211 (Mohammad Rizwan, 39.1), 6-239 (Babar Azam, 42.1), 7-269 (Imad Wasim, 46.3), 8-269 (Wahab Riaz, 46.4), 9-281 (Mohammad Nawaz, 48.1)
Bowling: Gabriel 8-0-53-1 (w2, nb1), Holder 7-0-35-1, C Brathwaite 10-0-54-3, Benn 10-0-46-1, Narine 10-0-58-1 (w1), Pollard 4-0-34-0 (w1).
WEST INDIES (target: 287 off 49 overs)
J Charles c wkp Sarfraz Ahmed b Mohammad Amir             20
K Brathwaite c wkp Sarfraz Ahmed b Hasan Ali                      14
DM Bravo b Mohammad Nawaz                                                           12
M Samuels b Wahab Riaz                                                                           46
+D Ramdin c Azhar Ali b Mohammad Nawaz                            8
K Pollard c Sharjeel Khan b Mohammad Nawaz                     9
*J Holder b Imad Wasim                                                                          1
C Brathwaite b Mohammad Nawaz                                             15
S Narine c Imad Wasim b Hasan Ali                                           23
S Benn not out                                                                                          16
S Gabriel b Hasan Ali                                                                          2
Extras (lb6, w2, nb1)                                                                            9
TOTAL (all out, 38.4 overs)                                                      175
Fall of wickets: 1-27 (Charles, 7.4 overs), 2-41 (K Brathwaite, 12.2), 3-54 (Bravo, 17), 4-89 (Ramdin, 23.2), 5-99 (Pollard, 25.1), 6-103 (Holder, 26.5), 7-125 (CR Brathwaite, 30.4), 8-135 (Samuels, 33.1), 9-166 (Narine, 36.2), 10-175 (Gabriel, 38.4)
Bowling: Imad Wasim 8-0-36-1, Mohammad Amir 5-1-21-1, Hasan Ali 5.4-0-14-3, Wahab Riaz 6-0-27-1 (nb1), Shoaib Malik 4-0-29-0 (w2), Mohammad Nawaz 10-0-42-4.
Result: Pakistan won by 111 runs (D/L method).
Series: Pakistan lead three-match series 1-0.
Man-of-the-Match: Babar Azam.
Toss: West Indies.
Umpires: Ahsan Raza, Ruchira Palliyaguruge; TV – S Ravi.
Around the Web