Titans Table Tennis club continues to forge its mark internationally by producing the next wave of budding racquet talents.
This was evident at this year's Pre-cadet and cadet Caribbean table tennis championship played at the National Indoor Sports Centre (NISC) in Jamaica recently.
Standouts Niran Bissu, Isaiah Layne, Neveah Clarkston and Thuriah Thomas were among the seven players that featured in the national setup from the club which was formed in 2011 and which gave that institution a considerable footprint in the future of the discipline.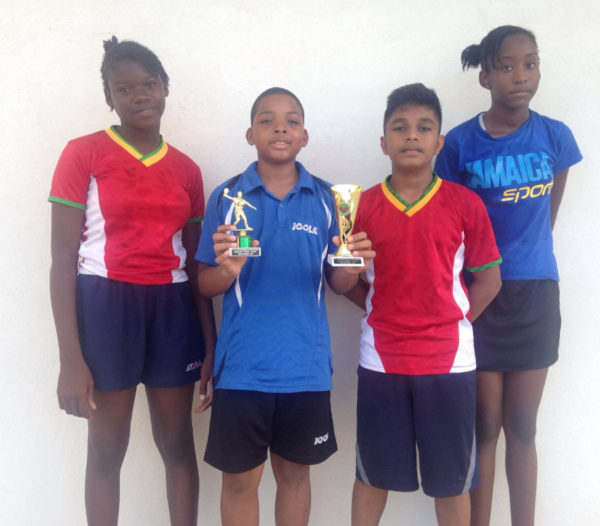 Among the medals that returned to local shores for the national unit, were silver medals from Bissu in the u13 boys doubles and boys team events, while Layne claimed a silver medal in the U13 boys singles and team events.
The girls were not to be outdone and Clarkston and Thomas also carried the banner with aplomb as they secured several accolades. Clarkson secured second place (silver medal) in the girls U13 singles, doubles and team events while Thomas clinched third place (bronze medal) in the u11 singles and second position in the U13 team events.
Speaking on behalf of the players Bissu in a brief comment said: "It was a good experience for everyone representing Guyana and returning with medals."
He added that the championship highlighted the need for "harder training" methods and dedication because of the quality of the opposing players from the other territories.
Asked about the importance of international events to their development, the diminutive racquet wielder said it provides the players an avenue to test their abilities and the opportunity to acquire sponsorship and scholarships through consistent performances.
According to Bissu, these events also help to shine a spotlight on the sport which is not often viewed in the same light as the major disciplines.
He indicated the need for more clubs to increase awareness of the sport saying…."Table Tennis should be a part of physical education in schools. It will bring in many more players and improve the sport".
Around the Web