Ansa McAl, through its Stag Beer brand, yesterday teamed up with the Guyana Floodlights Softball Cricket Association (GFSCA) for the fourth consecutive year as sponsorship continues to pour in for the upcoming Guyana Cup 6.
A few executives of the GFSCA in President Ramchand Ragbeer, Vice-President Ricky Deonarain along with vice president Ramesh Sunich, Jailall Deodass and Stag Beer representative Lindon Henry, held a brief presentation ceremony at the beverage company's East Coast Demerara branch boardroom.
While Stag Beer has been a part of the annual event since the third year, Henry stated that the company was elated to be on board for such a premier international softball competition which the sixth event promises to be.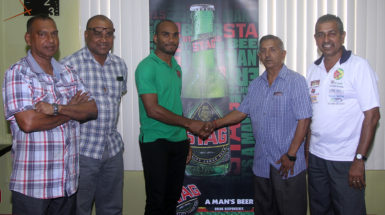 With over a million dollars up for grabs over the three day period which bowls off on November 4 and ends at the Demerara Cricket Club (DCC) Ground on November 6, both Ragbeer and Deonarain during their brief comments were optimistic that Softball Cup 6 would better the previous editions.
Deonarain also confirmed that Sunday's final will fetch a small admission fee of $1000 and encouraged fans to come out early as the finals bowl off from 11:00hrs sharp.
At the conclusion of the presentation, both entities thanked each other for the sublime relationship which has been growing over the past four years, thus making the tournament what it is today.
Around the Web