A pulsating Cross Fit style competition brought the curtain down on the successful two-day GTM Health and Fitness Games which concluded Sunday night at the Cliff Anderson Sports Hall.
Among the booths stacked with supplements, apparel, magazines and nutritious snacks and smoothies, there were several activities that had the venue and the streets buzzing over the weekend.
Day one activities were highlighted by a Zumba Party and a 5K Cancer Awareness walk which was illuminated by glow sticks.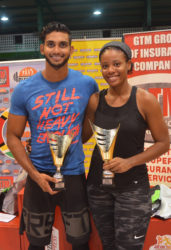 Before Dillon Mahadeo and Semonica Duke repeated as RX champions in the grueling Cross-Fit like event which attracted 28 competitors on Day two, there were exhibitions in the disciplines of mixed martial arts, basketball, bodybuilding and men's physique.
The tireless pair of Duke and Mahadeo bested the competition after completing feats like burpees, pull ups, snatches, lunges, dead lifts, thrusters, box jumps and others in the fastest time for their respective categories.
At the event which is in its sophomore year, fans also got a chance to interact with some of the top athletes in the country, like recently crowed CAC gold medalist, Kerwin Clarke and members of the national rugby team.
The event received the corporate backing from GTM, Courts, Banks DIH Limited, Fitness Express, Genesis Fitness Express, St Joseph's Mercy Hospital, Star Party Rentals, Axe Apparel, Degree, the National Sports Commission, 704 Sports Bar, Healing Waters Spa, Lipton Tea and the Trophy Stall.
Around the Web