Although acknowledging his team's status as the underdog, Troy Wright, Head-Coach of St. Agnes said he is confident his team has the quality to claim the 5th Annual Courts Pee Wee Football Championship.
Second year participants St. Agnes sealed their place in the final by defeating highly touted West Ruimveldt by a 1-0 scoreline, setting up a grudge match with defending champion and neighbour St. Angela's, on Sunday November 20th.
In an exclusive interview, following a training session at the Parade Ground, Wright said, "We are the underdogs, but most of the teams we have beaten are either former champions or finalists. We beat Stella Maris [2014 winner] who is a former champion, Marian Academy [2012 champ] who is a former champion, and West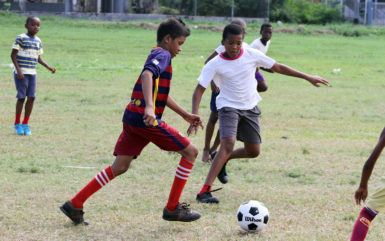 Ruimveldt [2013 finalist and 2012 third placed team] who was a finalist, and now we are facing off with the current champion."
Another notable team that fell at the hands of the Church Road unit was South Ruimveldt [2014 fourth place finisher]. Their only blemish to date came via a 1-0 loss to Redeemer Primary in the group stage.
According to Wright, "It's going to be a tough match. They (St. Angela's) don't want to lose to us, they want to win back to back titles, and we don't want to lose to them. It's going to be a war, even without football they normally have problems between the schools, so with football it's going to be a war. The guys are really fired up and have high expectations, and they want to be victorious."
Asked what will be needed emerge victorious, he said, "The basics and technical skill, as well as discipline. Once we can stick to the basics, be disciplined and execute our game plan, we will be successful. I was watching St. Angela's and they have openings certain teams can capitalize on. I am working to capitalize on these areas, so we can upset them."
Troy declared "We are working on some of our weaknesses that I saw on Saturday, and also on our game plan against St. Angela's. We are confident, once we work to the game plan we will be successful."
Around the Web