VIJAYAWADA, India, CMC – Head coach Vasbert Drakes says West Indies Women were already bracing for the harsh reality of having to play a qualifying series, in order to secure a berth at next year's ICC 50-overs World Cup in England.
The Caribbean girls suffered a 3-0 whitewash at the hands of India Women when they went down by 15 runs in the final One-Day International on Wednesday.
The defeat severely dented the Windies Women's chances of automatic qualification for the World Cup as they will now have to depend on the results of other games in the ICC Women's Championship in order to know their fate.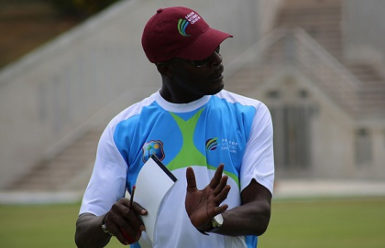 "If we're going to be realistic, it's about playing cricket consistently and winning critical periods which would allow us to win a major competition. In terms of the resilience when it matters and that competitiveness we weren't able to do that so we've got to face the reality," Drakes said.
"If it's a case where we've got to go into the qualifiers and compete and also expose other personnel to the group, so be it. We know where we were, which direction we were headed, we know exactly if we don't qualify [automatically] what position we would be in."
He continued: "As a group we're disappointed but I think all is not lost. One of the things that we are aware of is the fact that we need to play more competitive cricket for a long period of time. We haven't been blessed in those circumstances.
"For me, I'm disappointed as a coach, we're disappointed as a group but there are some things we can take away from this series in terms of the ability to execute when it matters, we just weren't good enough."
West Indies Women captured the Twenty20 World Cup last April for the first time but have displayed a shadow of that form since then.
In their first taste of action since then, they went down 3-2 to England Women in a five-match series in the Caribbean last month and were swept here in all three matches.
Drakes said while losing a second straight series was difficult, the real disappointment lay in the fact that the group had not executed any of their plans.
"As a group, we are very disappointed to be in a position where we have lost the series because we haven't really taken the initiative when it mattered," he noted.
"Our preparation has been good. It's just when we as a group get out in the middle, we haven't executed our game plan and it would have really cost us the series."
He added: "So in terms of handling pressure in the longer format, we need to get better if we are going to win or compete in the World Cup in 2017. Those are the areas we are cognisant of. We recognise as a group in the last two series we have let ourselves down so it's quite obvious we have a lot of work to do, hence the reason we are behind the eight-ball."
Australia Women, who have won the Championship, along with second placed England Women and the third placed New Zealand Women, have all clinched automatic qualification.
West Indies Women are currently fourth on 22 points following their full complement of games but can be overtaken by India Women, who are fifth on 19 points, and South Africa Women who are sixth on 17 points.
The top four in the Championship are guaranteed automatic World Cup qualification while the remaining four slots will be determined via a 10-team qualifying event in Sri Lanka next February.
Around the Web