Telecommunications giant, Digicel will partner with the Guyana Special Olympics Committee to stage the inaugural Special Olympics 5km Walk, Wheel and Run Race on December 4 at the National Park.
These and other details were disclosed during the launch of the event on Thursday at the company's Kingston headquarters.
"This is the first project of its kind that we have embarked on and we will use it as a stepping stone to be able to better this project, " Said Wilton Spenser, head of the Special Olympics committee.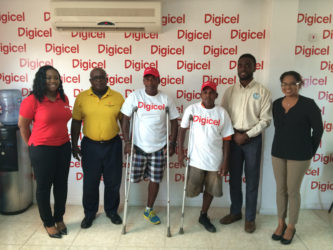 Added Spencer "We want to encourage athletes to compete in the longer distances and by offering this kind of event, we hope that overtime, we will have much more athletes competing in the longer distances."
Assistant Director of Sports Bryan Smith, noted that "The National Sports Commission (NSC) under the Directorship of Christopher Jones has mandated that the body play a greater role in the participation of women and the differently abled."
Smith indicated that Governments must join with other private sector entities to make the event a success and encouraged more companies like Digicel to come on board.
Meanwhile Digicel through Senior Sponsorship & Events Executive Louanna Abrams stated that the company is happy to lend a helping hand with the committee, reminding that it is an initiative stretched throughout their thirty-two markets.
"We have a soft spot in our hearts for our special needs athletes and it is through this soft spot that we have conducted several initiatives at various institutions. We are so excited for December 4th at the National Park," Abrams added.
Male amputees with crutches along with both genders in the Blind (B1 and B2) wheelchair users and persons with intellectual disabilities are urged to register.
The top three finishers will be rewarded with a trophy and $10,000, a trophy and $8000 and a trophy and $5000 respectively. Participants are expected from Regions Two, Four, Five, Six and10. (Emmerson Campbell)
Around the Web