The curtain will come down on the 2016 cycling season with back-to-back races this weekend.
First up today, the cream of the nation's wheelsmen will transform the outer circuit of the National Park into a speedway as they vie for trophies and lucrative cash incentives in the Team Alanis 20-lap fixture.
Scheduled to roll off at 12:30hrs, the event is set to attract top cyclists like Alanzo Greaves, Marlon Williams, Orville Hinds, Paul DeNobrega, Raul Leal, Michael Anthony and Geron Williams who will be pedaling for the top honors in the senior category.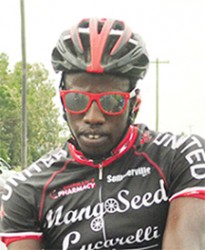 The sum of $40,000 and a trophy will go to the rider taking pole position while the first ($30,000), second ($23,000), third ($16,000), fourth ($13,000) and fifth ($10,000) runners up will also pocket five-figure cash prizes.
There will also be 10 primes worth $2000 each up for grabs. The top three finishers in the junior, veteran and upright categories will also take home monetary prizes and trophies.
Standout veteran rider, Junior Niles, top junior, Raphael Leung and Mountain Biker, Ozia McAulay will be aiming to be among the money.
Other events which will roll off tomorrow include:BMX boys 12 to 14 years, BMX boys 9 to 12 years and BMX boys 6 to 9 years.
Meanwhile, tomorrow, the bikers will take their talents to the open road to compete in the Diamond Mineral Water 55-mile road race on the East Coast of Demerara from 07:30hrs.
The event starts in front of the Ocean View Hotel, proceeds to Half Way Tree Mahaicony, then returns to the point of origin for the finish. The veterans, uprights and female riders will turn back at the Mahaica Bridge on the upward journey. This event is being sponsored by Demerara Distillers Limited for the 17th time.
Team Evolution's Hinds is the defending champion of the road race, having won last year's event which was staged at West Demerara in a brisk time of one hour, 59 minutes and 24 seconds.
Talim Shaw (Veteran), Sherwin Forde (Mountain Bike) and Chris Griffith (Junior) are the defending champions of the other categories. (Emmerson Campbell)
Around the Web