Top distance runner Cleveland Forde will be missing when the cream of the nation's distance athletes compete with their South American and Caribbean counterparts today in the second leg of the IAAF South American 10km Classic.
Winner of the first leg in Suriname on October 30, Cleveland Forde, has withdrawn from the men's division due to an Achilles tendon injury, while Euleen Josiah-Tanner will be looking to register back-to-back victories in the ladies division before the annual event concludes in Panama.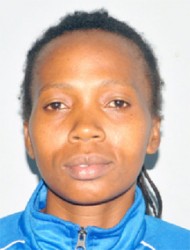 Last year's Guyana leg winner, Peruvian Yerson Orellana will face opposition from fellow Peruvian Luis Ostos, Cleveland Thomas (third in the initial leg), Winston Missigher and others, while the US based Tanner will be challenged by defending champion, Trinidad and Tobago's Tonya Nero, Grenada's Kenisha Pascal and local standouts, Claudrice McKoy and Alika Morgan.
The event will commence at 15:00hrs on Carifesta Avenue (in front of GT&T), proceed to the University of Guyana and return to the National Park for the conclusion.
As customary, US$1000 will be awarded to the top senior finishers in the men and women's categories. The first, second, third and fourth runners up will pocket $US600, $400, $US300 and US$200 along with trophies respectively.
Junior athletes (16-20 years) as well as Masters (Women 35+), Men (40-55) and (56 and above) will also take home trophies and cash prizes. The top four juniors will receive vouchers or grants valued at US$100, US$75, US$50 and US$25 while the top four Masters (Women 35+), and Men (40-55) will run off with GY$20,000 GY$12,000 and GY$8,000 respectively.
Masters (56 and above) top three finishers will collect G$15,000, G$1,000 and G$5,000 in that order. Beverage giant, Banks DIH Limited and leading fitness retailer, Fitness Express have thrown their support behind the fixture.
Around the Web