Shaquel Agard proved that his three-stage win two weeks ago was no fluke when he followed it up yesterday with another victory around the outer circuit of the National Park.
The Linden Bauxite Flyer's standout bested a quality field after changing gears and going into a solo time trial mode in the final lap of the feature 20-lap event of the Team Alanis Cycling programme.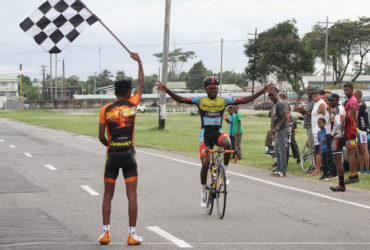 Agard pocketed the $40,000 first place cheque and the winner's trophy, in leading junior star cyclist, Raphael Leung (United Bikers) and top veteran, Paul Choo-We-Nam (Team Alanis) unto the podium. Hamza Eastman, Alanzo Greaves and Orville Hinds complete the top six paid positions in the overcast conditions.
Knocking on the door all year with consistent top five placings, Agard finally got his breakthroughs in the third to last, and the penultimate fixtures of the long cycling season.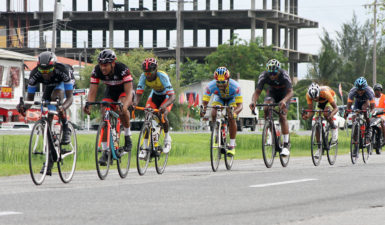 Admittedly, it was the second biggest win of his young career.
"This is my second big win, and I feel very good about it, beating quality guys that competed, I feel very good about it" Agard said in a post race interview.
Agard who has shown tremendous consistency and growth throughout his 2016 campaign, noted that he is looking forward to more success on the saddle in 2017 and beyond.
Other categorical winners yesterday included: Leung (junior), Sean Budhan (Mountain Bike), Choo-We-Nam (Veteran), Jared Barrington (BMX 6-9 years) and Sherwin Sampson (BMX 9-12 years and 12-14 years).
The cycling season ends today with a 55-mile race which starts at Ocean View Hotel at 7:30 hrs, proceeds to Mahaicony and returns to the point of origin for the finish. Agard will be keen to cap the season with a hat-trick of wins.
Around the Web