Alanzo Greaves capped a long and successful cycling season yesterday when he won the 17th annual Diamond Mineral Water 55-mile road race.
Greaves outsprinted his breakaway companions, Hamza Eastman, Jamal John, Shaquel Agard, Slivio Innis and Christopher Cornelius for victory in the trek which started outside of the Ocean View Hotel, proceeded to Mahaicony and returned to the point of origin for the finish.
As the curtains came down on the 2016 cycling season, it was Greaves who proved to be the fastest out of a six-man breakaway that dominated the race.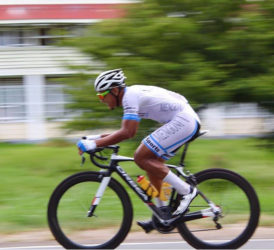 The win will be a hugely significant one for the national cyclist in terms of building his confidence for next season.
The 28-year-old was banned from competing for a year after a positive test for a prohibited in his urine sample following the five-stage road race last November. After the ban was lifted, Greaves could have only begun his season on November 3.
Finishing fourth overall in the three-stage two weeks ago was an encouraging sign, but there's nothing like the morale boost of a race win.
Greaves will no doubt be looking forward to more success on the saddle in 2017 and beyond. (Emmerson Campbell)
Around the Web