(Reuters) – Juergen Klinsmann has been fired as head coach of the U.S. men's national team, U.S. Soccer said on Monday.
Klinsmann was under contract through 2018 but his future with the team had been in doubt after a pair of recent losses left their hopes of qualifying for the next World Cup in serious peril.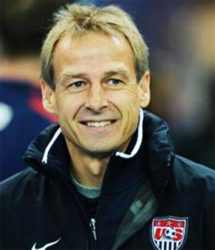 "Today we made the difficult decision of parting ways with Juergen Klinsmann, our head coach of the U.S. Men's National Team and technical director," U.S. Soccer president Sunil Gulati said in a statement. "We want to thank Juergen for his hard work and commitment during these last five years.
"He took pride in having the responsibility of steering the program, and there were considerable achievements along the way."
The 52-year-old former Germany national team coach and World Cup-winning striker had been in charge of the U.S. team since 2011 when he replaced Bob Bradley and was supposed to usher in transformative changes.
While Klinsmann's run with the U.S. team did indeed include some worthy highlights he was also criticised often for tactical shortcomings while some reports suggested the players tuned him out and failed to fully buy into his system.
The United States can still qualify for the 2018 World Cup in Russia but a stunning 4-0 loss to Costa Rica, which came on the heels of a 2-1 loss to Mexico, has them sitting dead last in CONCACAF World Cup qualifying.
Should they rally and earn one of this round's three automatic qualification slots for Russia 2018, the United States would become the first team in CONCACAF history to finish in the top three of Hexagonal play after opening with two losses.
With their next World Cup qualifier not until a March 17 game against Honduras, Klinsmann's replacement will have plenty of time to take stock of the program and evaluate players.
"While we remain confident that we have quality players to help us advance to Russia 2018, the form and growth of the team up to this point left us convinced that we need to go in a different direction," said Gulati.
"With the next qualifying match in late March, we have several months to refocus the group and determine the best way forward to ensure a successful journey to qualify for our eighth-consecutive World Cup."
Around the Web