Fruta Conquerors and Guyana Defence Force (GDF) secured contrasting wins over debutants Topp XX and Victoria Kings, respectively, when season II in the Guyana Football Federation (GFF) Stag Beer Elite League commenced on Sunday.
The Tucville unit defeated the Lindeners by a 3-0 margin in front of a small but raucous crowd at the Demerara Cricket Club (DCC) ground in Queenstown.
Jermin Junior broke the deadlock in the 38th with a well-placed shot from inside the centre of the 18 yard area.
Junior grabbed the second two minutes later, as Eon Alleyne dribbled into the left side of the box, and threaded a pass into the former who finished with aplomb past the custodian.
Topp XX had their moments, with Travis Watterton the main threat emanating from the midfield area. The veteran ball weaver rifled a powerful right foot shot onto the crossbar from the top of the box in the 56th minute.
Watterton was then tipped over the crossbar by custodian Derrick Carter in the 69th minute, compliments of a curling left side free-kick 22 yards from the target.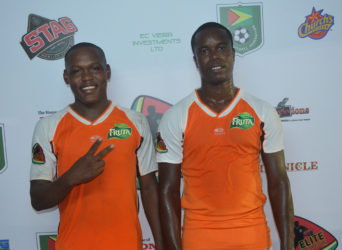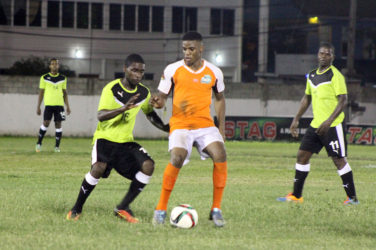 However the result was sealed in the 73rd minute as Kwame LaFleur skipped past his marker on the right wing, before cutting into the area and placing his shot past the advancing goalkeeper into the lower left hand corner.
With the outcome, Fruta Conquerors clinched three points while the Linden outfit remain without a point.
In the opening game, the army unit outflanked the East Coast of Demerara unit by a 7-1 margin. Sherwyn Caesar's hat-trick in the 78th, 87th and 90th minute was academic, as the contest was basically over at 4-0, five minutes into the second period.
Delroy Fraser, Jeffrey Pereira, Olvis Mitchell and Eusi Phillips scored in the 20th, 22nd, 30th and 50th minute respectively. On target in the loss was Marlis Johnson in the 85th minute.
GDF claimed three points while the loser left empty handed. Prior to the start of the event, a march past of the competing teams was held, and the GFF executive met with the participants.
Action in the event resumes on Friday November 25th at the Tucville ground with another doubleheader. In the first fixture at 18:00hrs, Buxton United opposes Monedderlust, while Fruta Conquerors tackles Victoria Kings in the feature contest at 20:00hrs.
Around the Web