The Guyana Senior Basketball team departed local shores yesterday to compete in the Jamaica Tri-Nation Invitational Series, slated for November 25th-28th at the Jamaica National Indoor Sports Centre.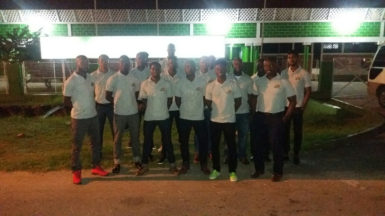 The 13 member roster which departed from the Cliff Anderson Sports Hall, includes Shane Webster (Colts), Jermaine Slater (Ravens), Nathan Saul (Pacesetters), Dominique Vincente (Ravens), Nikkoloi Smith (Plaisance Guardians), Terron Welch (Half Mile Bulls), Michael Turner (Half Mile Bulls), Travis Belgrave (Eagles), Stanton Rose (Colts), Roger John (Pacesetters), Jason Squires (Pepsi Sonics), Curt English (Colts) and Akeem Kanhai (University of Guyana Trojans).
Mark Agard will serve in the capacity of head-coach, while his assistants will be Abdul Hamid and Junior Hercules. The manager of the team is Troy Green. The other competing teams in the tourney are American Basketball Association's (ABA) semi pro outfit the Libertyville Vipers, the Jamaican Senior team and the Jamaica U21 national team.
Up to press time, Guyana were slated to faceoff with JamRockerz from 20:00hrs in their campaign opener. The Guyanese will oppose Libertyville Vipers today from 19:00hrs, before concluding the group round against the Jamaica National U21 squad on Sunday at 16:00hrs.
Around the Web