Defending champ St. Stephens's, West Ruimveldt, Enterprise and North Georgetown were amongst the winners when the 3rd Annual Smalta Girls Pee Wee Championship commenced yesterday at the Ministry of Education ground, on Carifesta Avenue.
The holders edged Redeemer Primary by a 1-0 scoreline. Odelli Straughn scored the winner in the seventh minute. While, West Ruimveldt defeated Winfer Gardens 2-1.  Gabriella McGarrell recorded a double in the third and 10th minute. The loser got into the scorer's sheet via an own goal in the 13th minute.
Enterprise humbled 2014 champ winner Stella Maris 3-1. Kemeora Warren, Tanya Mohabir and Emmaria Mercier scored in the 14th, 16th and 20th minute respectively.An own goal in the 18th minute provided a consolation goal for the loser.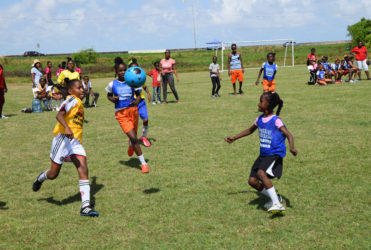 North Georgetown hammered Smith Memorial 4-0. Alicia James registered the event's first hat-trick in the fifth, 17th and 20th minute, complimented with an own goal in the 15th minute.
In other results, St. Agnes edged 2-0. Amanda McPherson and Shequeena Smith scored in the fifth and ninth minute apiece.
South Ruimveldt defeated St. Gabriel's by walkover, while St. Margaret's also won via a walkover against Tucville. Meanwhile F. E. Pollard and St. Angela's battled to a 1-1 stalemate. Carletta Ross scored for St. Angela's in the 13th minute while Cedranessa Benn equalised in the 23rd minute. The event will resume on Saturday, 3rd December, at the same venue with another round of group fixtures.
At 10:00hrs, St. Margaret's will oppose St. Stephens's while Tucville opposes Redeemer. West Ruimveldt will engage Smith Memorial and North Georgetown will tackle Winger Gardens from 10:45hrs.
At 11:30hrs, St. Gabriel's lock horns with St. Agnes whilst F.E. Pollard battles Enterprise. The final two matches at 12:15hrs will pit St. Angela's against Stella Maris and St. Pius against South Ruimveldt.
Around the Web