From Donald Duff in New York
When the 12th and final match of the FIDE Agon Limited-sponsored world title match between defending champion Magnus Carlsen and challenger Serjey Karjakin takes place tomorrow, both players realise that a win will be enough to land the first prize and the accolade of world champion.
Following yesterday's 11th round match at the Fulton Market Building, Manhattan, New York, which ended in a draw after a mere 34 moves, the players are now tied on five and one half points each.
The winner of the championship will be the first person to score six and one half points, and he will receive 60 per cent of the US$ 1.1 M prize money, while the loser will receive the remaining 40 percent.
If tomorrow's game is drawn, the two players will contest a series of tie breaking games starting on Wednesday.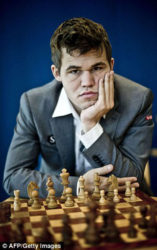 The players will play four rapid games with each player having 25 minutes per game, and 10 seconds added after every move.
If a winner is not decided after those four games, the two players will contest four blitz games, and if those games too do not result in a winner, then there will be a final game where white will have five minutes, and black four, but black will only need a draw to win the championship.
Carlsen who played with the black pieces yesterday will have the white pieces for the twelfth game, and the opportunity to score a win to retain his title.
Yesterday, he came close, almost queening the e pawn, which would have resulted in the much needed win, but Karjakin, as he has done throughout the series defended doggedly, and with Black threatening perpetual check after Qe4+, the players agreed to yet another truce, after a little over three hours.
Karjakin once again played e4, to which Carlsen countered with e5, as yet another Ruy Lopez game ensued, with Carlsen steering the game into the Spanish variation, as against the Berlin alternative.
Carlsen, who had scored a much-needed win in game 10 two days ago to revive his chances of a successful title defence, seemed to want a short draw so as to conserve his energy, and make a final push tomorrow when he will have the advantage of the first move.
Karjakin, as he has done so often in the series, seemed content to play solid if unspectacular chess, although to his credit he did find some sharp lines to counter some of Carlsen's threats.
Carlsen, unlike earlier games seemed to want to avoid a complicated game, and although he drove the white bishop from b5 to b3, where it was eventually exchanged, played a series of moves that kept Karjakin off balance, as he tried to push for the win. During those sharp plays Carlsen actually sacrificed two pawns, but gained compensation by advancing his passed pawn on the e file, causing numerous problems for White before the game ended in perpetual check.
Karjakin at the press conference said he was not altogether pleased with the game, while Carlsen said that he was not too upset with the way he played, adding that the last few days he has been much calmer.
Chess fans will hope that it is the calm that precedes the much anticipated stormy final round match.

Around the Web