If you are a fan of the iron and strength sports, then yesterday at the St Stanislaus College auditorium was the place to be since some of the best gladiators in the country took the platform to do battle in what turned out to be a record-breaking day.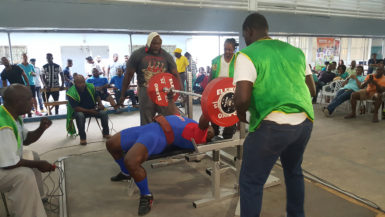 When the dust settled after each of the 32 athletes pushed their muscle fibres to the max, Vijai Rahim (male overall equipped winner), Carlos Peterson (male overall unequipped winner), Nadina Taharally (female overall unequipped winner) and Tinesha Toney (female overall equipped winner) emerged as the last men and women standing.
Rahim lifting in the 74kg class, had a wilks points of 545.158 after squatting 250kg, bench pressing 160kg and dead lifting 285kg for a total of 645kg.
On his way to winning the overall spoils of the male unequipped segment, Peterson  posted a new 93kg (junior) class dead lift record (300kg) while bench pressing 140kg and squatting the same as Rahim. His wilks points was 433.527.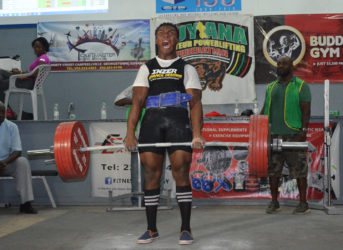 While Rahim took the overall title by virtue of recording the highest wilks points, Colin 'Mr Clean' Chesney obliterated the national bench press record en route to recording the highest total of 867.5kg.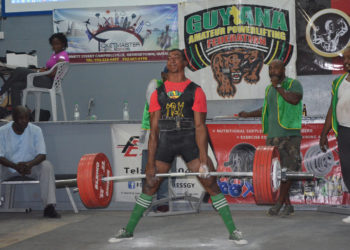 The 120+kg behemoth from Linden smashed the previous bench press record (230kg) which was held by John 'Big John' Edwards after posting 240kg, to the applause of the pumped up crowd.
Prior to his record breaking feat, 'Mr. Clean' squatted 355kg then returned to dead lift 272.5kg. His wilks points of 499.507 however, was not enough to unseat Rahim.
Taharally recorded a 332.5kg total with a wilks points of 347.5 to claim her title while Toney had a total of 365kg and 427.086 wilks points.
Powerlifting is comprised of three disciplines, the squat, bench press and deadlift with the winner of each weight category posting the biggest total in kilos.
The competition which was run by the Guyana Amateur Powerlifting Federation (GAPF) in conjunction with Fitness Express and Ticket Master Travel Agency, was used a yardstick to select athletes for international competitions next year. The GAPF will kick start next season's local calendar with the traditional novice competition in March.
Around the Web