Guyana's six-man weight lifting team which competed at the Barbados Independence Invitational returned home yesterday with nine medals, three being gold.
Masters lifters, Colin McKoy, Deon Nurse and Sean Cozier each lifted gold medals in that category while open lifters, Dillon Mahadeo, Shaun Bristol and Jonathan Ford snared two silver medals and a bronze medal respectively.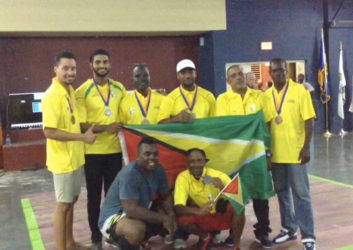 McKoy also returned to grab another gold medal in the open class. Nurse and Cozier were not as fortunate, but copped bronze medals in the open bringing the tally to nine.
Bertram Austin was the team's manager.
The team expressed their thanks to the Guyana Olympic Association, Wartsila ,Muneshwers, Gigi Pollard, Colours Boutique and Antarctic Refrigeration  Services for assisting with their successful sojourn.
Around the Web