LONDON, England, CMC– Sprint super star Usain Bolt says he is pleased with the work done by producers of a new documentary which chronicles his rise to iconic status.
I am Bolt Premiered in London Monday night attracting several of the world's leading athletes and entertainers.
Movie-making heavyweight Leo Pearlman, footballing stars Raheem Sterling, and Cesc Fabregas, pop star Geri Horner as well as  Dance Hall stars Sean Paul, Alkaline, Popcaan and Vybz Kartel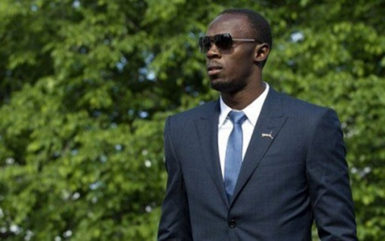 where among those who showed up for the premier of the movie co-directed by brothers Gabe and Benjamin Turner.
"When I watched the movie, it was so good, I could feel the emotions all over again," said Bolt.
"It's like I was reliving my life again and that's why I am so pleased about what they have done. They have captured everything and I know when people watch this they will understand. I want people to see the struggles and the pain; just the stress and have more insight in my life."
Bolt, who started training three weeks ago, is heading to Germany for his usual pre-season assessment with Dr Hans-Wilhelm Muller Wohlfahrt.
He is due in Monaco later this week for the IAAF Athletics Awards, where he is one of three finalists for the Male Athlete of the Year Award.
"I've always said London is a good place to untie my shoes. I came (for) the Olympics and it was just magnificent," said Bolt who plans to retire at the World Championships in London next year.
"So I know the energy that they are going to bring to the World Championships and I am looking forward to it. It's a good place to retire, I don't know if it was somewhere else if I would go but it's in London and that's a good thing".
I Am Bolt is now available for digital download and can also be seen on Blu-ray and DVD.
Around the Web