President of the Guyana Boxing Association (GBA), Steve Ninvalle has accomplished his mission following the three-day International Boxing Association (AIBA) Congress in Switzerland which concluded Wednesday.
According to Ninvalle, he was able to receive a 'favourable' response from the governing body's president, Dr. Wu with regards to funding of the Inter-Guiana, and the Caribbean School Boys and Juniors Boxing Tournaments, which are to be held here next year.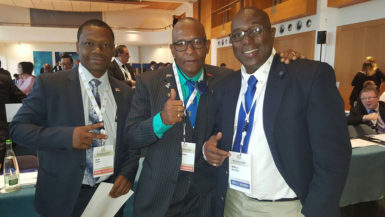 The School Boys and Juniors' tournament is tentatively scheduled for April, while the Inter-Guiana fixture will be staged sometime in August.
Said Ninvalle yesterday, "We were able to have a favourable response, what AIBA has asked is that we write to them stating exactly what we have, when it is going to be, countries that we expect to host at the tournament. I spoke directly with President Dr. Wu and he has promised that AIBA will be giving assistance to us."
Quizzed on the magnitude of the funding, the GBA head replied, "We don't know if it will be in cash or in kind, but he has promised that they will assist so I will be sending him a letter tomorrow."
Ninvalle added, "We are confident of receiving some sort of assistance from the world governing body and exactly what that is will be known maybe in another week or so, but we will accept whatever, it will be better than when we started out last year." The GBA head then disclosed that Dr. Wu was pleased with the performances of the local boxers who competed at the Caribbean Development Boxing Tournament earlier this month in Barbados.
"And he was also pleased that I would have seen it fit to start a School Boys and Juniors Tournament since the nursery of the sport is very important."
Ninvalle also revealed that AIBA will be channeling its focus on the Caribbean in 2018.
"2018 will be known as the year of the Caribbean, 2017 will be known as the year of Africa whereby AIBA will be focusing on development in Africa, so 2018 they will be doing same for the Caribbean so that is a plus for us."
Around the Web