Move over Santa Claus. You are not the only one who made a list this time of year.
Four-time Mr. Guyana and 2016 CAC gold medalist, Kerwin Clarke, has begun crafting a list of things he wants to work on in order to further improve his award winning physique.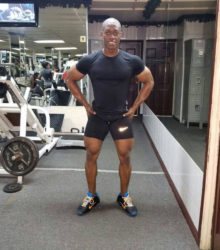 The 28-year-old, who has muscled his name into the conversation among the Caribbean's elite bodybuilders, currently has his hard hat on this off season, grinding out the reps in the gym to unwrap his best package yet in 2017.
"It takes hard work and dedication to achieve your goals and this off season I've been really focused on trying to improve my physique. I've been working on my strengths but more on the lagging areas like my calves," Clarke told this publication recently.
The aesthetic muscleman, who used his sharp physique to slice through the competition and earn a career defining CAC gold in the Dominican Republic this past October, enters next season with the goal of taking every Regional show by storm.
"Obviously I would want to defend my title at CAC in Mexico next October but I also have the Sports World Classic in Trinidad and the Darcy Beckles Classic in Barbados on my radar."
New progress photos which surfaced shows Clarke looking arguably better than he has been this time of the year which doesn't bode well for the rest of the competition.
Now that he is able to focus more of his energies on training, Clarke looks like he is on pace to put career-best performances up on the table.
The mass of striated muscle also disclosed that he is training like a man possessed in order to fly the Golden Arrowhead high when he makes his debut at the prestigious Arnold Amateur Classic from March 3-7 in Columbus, Ohio, USA.
"With the adequate sponsorship, I am looking forward to going out there
to master the middleweight category and then give myself a chance to battle for the overall," he declared.
Clarke always seems to find a way to make his presence felt on every bodybuilding stage and whenever he does come out to pose, you can bet with absolute certainty that he is gunning for the win.
Around the Web