Eagles Thursday night ended the reign of three time defending champions Winners Connections defeating the latter 5-4 on sudden death penalty kicks to seal their berth to the final of the Upper Demerara Football Association (UDFA) GT Beer Championship.
Following a 4-4 result at end of penalty kicks after normal and extra time ended 2-2 at the Mackenzie Sports Club (MSC) ground in Linden, Winners Connection commenced the first round of sudden death kicks and thought they had scored through Marmarlaque Davidson.
However, the official ruled that the Eagles goalkeeper Shawn Gittens had moved off his goal-line before the kick was taken and ordered the spot-kick to be retaken despite protests from the Winners Connection players.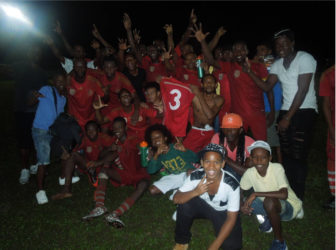 This time around Gittens denied Davidson from the mark handing his team the opportunity to seal the contest.
Jamal Simon then sealed the win as he placed his effort past the opposing custodian.
According to sources close to the Winners Connection management team, the outcome of the match will be protested formally as it is against the law to retake a penalty kick that is scored if the goalkeeper infringed.
Prior to the controversial conclusion of the match, Keon Sears handed Winners Connection the lead in the 11th minute with a well-placed header from inside the penalty box. Eagles fought back and levelled the contest in the 40th minute through an Allan Halley strike after the player spotted the opposing goalkeeper out of his area.
Eagles took the lead moments into the resumption as Yannick Simon made his presence felt, netting from the penalty mark after being brought down inside the box by a clumsy challenge.
However, the champions refused to go down without a fight, eventually pushing the fixture into the extra time realm as veteran defender Marlon 'Scarry' Maxius scored in the 70th minute via a header.
Ultimately Eagles prevailed via the penalty spot after the normal and extra time interval failed to provide a winner.
With the win, Eagles will oppose Silver Shattas in the final at the same venue tomorrow following the latter's 1-0 win over Botofago in the second semi-final fixture.
Rising star Colwyn Drakes made his presence felt once more in the 75th minute, latching onto a rebound after the goalkeeper parried an initial shot into his path before lashing the ball into the back of the net.
With the outcome, Silver Shattas sealed their second consecutive berth to the final after falling short in the 2015 edition final of the tourney. The third place fixture will occur prior to the grand final and will pit Winners Connection against Botofago.
Around the Web