This week in Guyana there is going to be the most intense activity in spoken word poetry, performance poetry, rap and hip-hop than there has ever been. A Hip-Hop and Poetry Night is billed for the South View Tavern tonight. Then the producers move to Club 704 Lounge where the focus will be on the first session of the National Poetry Slam on Wednesday night, March 23. The action returns to South View Tavern for the second session of National Poetry Slam on Saturday, March 26.

This intense activity is the result of the way certain popular forms of performance and the presentation of the spoken word have developed in Guyana. This specific line of development has its origins in the creation of Poetry Night and Open Mic Poetry at the Upscale Restaurant initiated by Asafa George in central Georgetown a number of years ago. Upscale Poetry became a household word due to its popularity. There was also Comedy Night at Upscale and that venue became the cradle for most of the leading stand-up comedy performers in Guyana today.
This activity in Guyana is the tail-end of quite a large movement worldwide. Poetry, over the centuries, has had many different kinds of influences that have contributed to its evolution, its shape and its form. Many of these have had to do with the audience in different times and places and very often this has been related to orality. Associated with these have been oral poetry and oral performance to the point where forms of poetry have evolved in particular ways because of oral presentation to an audience.
Oral poetry, of course, has always been performance and audience driven, since it had no dependence on written scripts and was transmitted orally from one generation to the next for its function and survival. Oral poetry had form and structure in accordance with its type. When written poetry evolved it demanded different yardsticks with rigorous literary qualities. In western societies, to be sure, and literate societies generally, written poetry dominated and assumed the role of models for what is poetic and literary. For a long time, the resemblances between the literary and the oral were not generally recognised.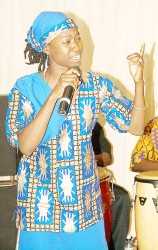 The oral eventually began to exert increasing influences upon the scribal because of their co-existence in the same societies. In contemporary times, the popular culture became increasingly dominant and more immediate contact and interaction were demanded of poems being read to them. Entertainment over-rode intellectual depth and complexity; contact and interplay with a live audience exercised great influence on what was written. Poets began composing for an audience-driven art form, and more and more it became more of a performance than a written exercise.
Techniques that went into crafting poems on paper gave way to strategies that would strike a listening audience since it was more about what you heard than what you read. Everything was heard once – immediately. There was no time for going back and re-reading. Literary demands gave way to performance demands. Performers spoke their minds and expressed themselves in more direct, straightforward fashion and were not interested in crafting literary devices. When strong criticisms began to emerge about quality, the response was that what we confront now is a different art. Even so, critics hesitate to call it art, to name it poetry.
So different terms are used to define it. It is 'spoken word,' 'spoken word poetry' and 'performance poetry.' Then because of its oral quality and audience demands, rhythm and often rhyme became more important. As an ally to these, electronic media soon found itself integrated into this type of entertainment. Dub and musical rhythms were used as accompaniment, and even when there was none, words were spoken to rhythms. The great bond between the electronic media and the popular culture deepened and other forms moved closer to spoken word and performance poetry. This came in the form of hip-hop performance and rap. Rap artistes often appeared on the same platforms and stages.
The poetry slam developed. This evolved out of poetry readings where the popular culture, entertainment and the immediate audience factor dominated. According to online sources, the first Poetry Slam in the USA was in November 1984, produced by Marc Smith in the Get Me High Lounge in Chicago. It gained professional status and became entrenched at the Green Mill Jazz Club in Arbor, New York in 1986. Another version was the Def Poetry and Def Slam or Def Jam developed by Rick Robin, a student at New York University. He followed on from the TV series that gave it the name. This was a series by Mos Def from 2002 – 2007.
Persons began to make money out of it and took it as a career, a profession. Poetry Slams were also popular in Europe, and known in different countries across the continent, particularly in the northern regions. Slams thrived as competitions in Holland, where they were held in bars and clubs. They are roaring popular entertainment with competitors often combatting for fun. What is to be noted is that the natural environment for these performances moved from theatres, performance stages and venues, and into bars, night clubs and lounges. Those witnessed in the Netherlands between 2000 and 2004 were taken seriously.
In Guyana, the Upscale Poetry Night began with mainstream poetry being read in addition to the 'Open Mic' sessions, where members of the audience were invited to take the stage and read their own work. The early sessions of this weekly event were very well attended and praised in a Stabroek News Editorial titled "Let a Thousand Poems Bloom." There were even special sessions devoted to the work of Martin Carter. Little by little, several persons left their tables to take the mic and there were recitations of thoughts and compositions. A favourite poet reading there was Bobby Fernandes.
Soon, mainstream literary poetry faded because of popular audience choices and the Upscale became a strong promoter of spoken word and performance poetry. Those who composed for that genre, including the likes of Randolph Critchlow, Mark Luke-Edwards, Ruqayyah Boyer and Kojo McPherson, emerged there. Rising with the spoken word artistes were stand-up comedians. The Upscale Comedy Night served as apprentice grounds for some who are now the giants of local comedy, particularly the dominant Lyndon "Jumbie" Jones and Henry Rodney. Also starting their careers there were Chow Pow (Kirk Jardine), Odessa Primus and Chris Gopaul. They all owe a great debt to the Upscale and Asafa George.
When the Upscale scaled down and ceased, other things began slowly to take up the relay baton. Activities built up at the OMG Sports Bar on a regular monthly basis. Then the Hip-Hop and Poetry Nights held by Franale Holder emerged at Club 704. The Franale Holder affairs integrated the spoken poetry with rapping and hip-hop, so that the popular forms of music took the same stage with rappers and poets. The new National Poetry Slam arose out of these appearances.
What will happen tonight at the South View Tavern is a mixed event at which the performers will concentrate on a theme for the first time. They will tackle the plague of suicide and their compositions will be social commentary on that issue.
The National Poetry Slam coordinated by Ms Holder goes wider and diversifies what she has been doing on a monthly basis. The National Slam has invited all performers in these genres to compete for large cash prizes sponsored by the Department of Culture: of $150,000 for First, $100,000 for Second and $50,000 for Third.
All performers in the regular hip-hop and poetry nights as well as all others who wish to do so enter into a competition. They will perform their work on either the National Slam on March 23 at the 704 or the other National Slam session at South View on March 26. From these competitors the finalists will be chosen according to the best performers. All who make it into the final will receive $15,000 each. These grand final will be held in April.
There will be many performers on each show, but in order to be considered for the contest and the prizes, the compositions will have to be on any of the given themes. These are: 'Celebrating Guyana as a Nation;' 'A Guyanese Patriotic Spirit;' 'National Unity;' 'The Elimination of Social Ills;' 'Encouraging Social Problem-Solving;' 'Appeal to a Popular Audience' and 'Influence Them to Improvement.'
These may be reflected or incorporated into the work in whatever way(s) the composer chooses. All who do spoken word and performance poetry, as well as rappers and hip-hop performers are eligible to enter but they must have original compositions on the themes. This is being done to recognize those who work in these popular genres and challenge them to be creative and original and to influence their popular audience in a positive way.
Around the Web