Among the honours, recognition and tributes paid to Malcolm Corrica, MS, popularly known as Lord Canary, (March 21, 1937 – October 10, 2016), is a publication of his biography written by Allan A Fenty. This was launched on February 18, 2016 as a celebration of Guyana's legendary calypsonian. Other decorations which came earlier, included the national award – the Medal of Service (MS) in 1992 "for long service with exceptional dedication in the fields of politics and popular music as a composer and entertainer."

Corrica distinguished himself through notable achievements in culture as well as through national service in government and politics. Primarily, he was a calypsonian with a long and distinguished career including winning the crown as Calypso King of Guyana and being his country's foremost campaigner in that field in Trinidad and Tobago, the Caribbean and New York. He was elevated to high national office in government – a member of the Cabinet – as Minister of Culture in the Ministry of Education, Social Development and Culture, and as Parliamentary Secretary in the Ministry of Works and Communication. His appointments to these offices came during his long service as a Member of Parliament for the PNC between 1969 and 1985. 
Additionally, he was assigned by prime minister and later president Forbes Burnham to oversee the use and development of the new National Cultural Centre (NCC) in the late 1970s. In the process of those duties, he spearheaded a number of other events including the series of shows known as "The CC Varieties" which promoted several Guyanese artistes. The biography also credits Corrica with facilitating the debut at the NCC of the annual Arrival Day dance production Nrityageet, which was founded in 1979 by Nadira and Indranie Shah.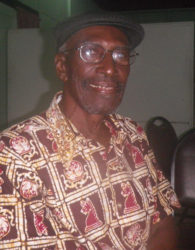 Fenty details several other activities in the field of culture in which Corrica was a major protagonist. These include the annual Mashramani Calypso competitions in which he could not compete while he was coordinator. However, it is known that after that period Lord Canary returned to his roost as a champion Guyanese calypsonian, winning the Mashramani crown in the process.
As a minister he presided over the PNC creation, the Peoples Culture Corps which fostered "hybrid bands accompanying all types of vocalists . . . there were also annual calypso caravans touring from Georgetown to the Corentyne Coast and elsewhere.  These mobile calypso tents were to produce and feature the likes of calypsonians El Cid, Panther and others."
Lord Canary held an important place in calypso in Guyana for a number of other reasons. These include the fact that up to 2016, he stood alone as a leading member of the old guard of local calypsonians who were a part of the major cultural movement that developed in British Guiana during the middle years of the twentieth century. This included the strongest period in the history of the calypso in Guyana.
British Guiana (BG) was part of a very outstanding era starting in the 1930s or 1940s in the rise of the popular culture and popular entertainment across the Caribbean. It was certainly very strong in Jamaica in the 1930s and what always surprises many people, had the great Marcus Garvey in the middle of it as a producer of dramatic plays, an impresario and promoter of popular shows at Edelweiss Park in Kingston. It was surely very useful to Garvey's black working class ideology, (and, by the way, he also fancied himself a playwright and a poet – see publications by Tony Martin and The Majority Press). It was also a period of traditional calypso tents and the work of CLR James and the 'Trinidad' literary movement in Port of Spain.
It was the development of vaudeville and popular entertainment that grew out of a background of folk culture and traditional performance. But it was a mainly urban drive by the popular culture.  The calypso tents, rooted in Trinidad, were central – rising like a phoenix out of the Camboulay Riots and thriving on the controversies of the early to middle 1900s. These were also accompanied by robust activity in vaudeville including comedy, stand-up comedy, popular music and a variety of artistes. The shows took place in cinema houses and grew into the very popular Christmas Morning Concerts in Jamaica that persisted up to the late 1960s. The concerts were followed by grassroots plays, also performed in the cinema houses.
Those were important stages for the development of the calypso in pre-independence Trinidad and British Guiana. Records of activities involving Guyanese and shows in Guyana are to be found in a few publications and documentations. One of the prominent Trinidadian calypsonians was the Roaring Lion, whose name was Rafael de Leon, who has his own version of the origins and development of the calypso form. In Calypso From France to Trinidad, he detailed his associations with British Guiana. There were visits, shows produced in Georgetown and Guyanese calypsonians performing in Trinidad.
The work of Guyanese Bill Rogers (born Augustus Hinds) is mentioned there and surely he was much involved in exchanges between the two countries. Hinds himself was an extremely scrupulous keeper of records and accumulated an enviable collection of documents containing valuable history – archival records of that period and its thriving vaudeville. His son, Roger 'Young Bill Rogers' Hinds, a calypsonian and chutney singer, wrote a publication from his father's records.
This period also includes the so far undocumented and under-researched era which was Guyana's most outstanding period for the calypso. It includes the way British Guiana served as a cradle, a nurturing ground and a launching pad for the Mighty Sparrow. Guyanese Cyril Shaw served as his manager and he virtually lived and performed in Guyana during the 1950s – early 60s. Sparrow was joined in BG by his calypso partner Lord Melody, another leading exponent from Trinidad. But only a University of Guyana study by Dr Seeta Shah, daughter of Cyril, attempts to document that important era. Professor Gordon Rohlehr would have mentioned it in a public lecture.
The very valuable work – Nostalgias: Golden Memories of Guyana 1940 – 1980 by Godfrey Chin is one of the rare valuable records of the period by one who witnessed it. Chin told much about the cultural traditions including steel bands and calypso, but did not provide any substantial cover of a range of activities involving Sparrow, Melody, Lord Canary and producers Vivian Lee and Shaw.
To return to Corrica's biography, looking at the publication, it is not easy to isolate its true title. It would seem that the title is all or part of the following: The Lord Canary. Small man, calypsonian, parliamentarian, minister. The Life and Contributions of Malcolm Corrica as told to AA Fenty.
It details Corrica's life from growing up in Bagotstown on the East Bank Demerara on the southern edge of Georgetown to his years in politics and his exploits as Guyana's greatest calypsonian. Mention is made of Sparrow, Lord Melody, both impresarios Shaw and Lee, but very little about the Sparrow's 'BG years'. It  elucidates Canary's rise, his debut in concerts at which the Trinidadians performed and how Sparrow introduced him to the Trinidadian calypso arena.
The important thing about the biography is that it is now the only authentic detailed documentation of the life and works of Canary and why he is so important to Guyana's cultural history. Apart from Bill Rogers, no other Guyanese calypsonian has had as much success and acclaim in the West Indies, in Trinidad, as Canary. Up to 2014, when he was already in semi-retirement, he was the last in the royal line of true calypsonians in a country that has forgotten the art of the calypso, since the art went with the retirement of the Mighty Rebel.
Canary was still able to win the Mashramani Calypso Crown in his years of semi-retirement. He was the last man standing from the mighty and legendary years when calypso in Guyana was able to make an impression upon Trinidad and Tobago, the Mecca of the art form.
Another remarkable misstep of the biography is the dearth of dates. Dates are sparsely provided for several events, episodes and anecdotes. Sometimes a reader has to depend on external (and internal) evidence to date things and to properly understand exactly when, and in what context many things took place. (In this way it recalls the autobiography of great Guyanese dancer Helen Taitt; but Taitt had a reason for erasing dates from her account).
In a Foreword to the biography, Cecil Woolford Semple gives another brief reference to the golden age of Guyanese calypso and how "Canary has made his input", in "every department of the art of the calypso . . . whether it is politics, current affairs, a suggestive song or even one with a little smut."
Vincent Alexander sums up Canary as the embodiment of Burnhamite ideals – the manner of man that the Burnham Foundation today appreciates as an exemplar, particularly in the way he rose from very humble beginnings as a "small man" – a man "from, and of the people". He was a joiner and cabinetmaker who never forgot his roots, and was able to walk with kings while never losing the common touch and who placed "values" above "valuables".
The composer of memorable hits such as "Doctor Beckles", "Alfred", "Wicked Cricket", "Tribute to Martin Luther King", "The People Will Talk" and "Bottom Floor", once beat the great Sparrow in a Caribbean competition, which was won by the Mighty Duke with Canary second. He stood side by side with Trinidadian greats Kitchener, Sparrow, Duke, Melody, on international stages and in the words of some commentators was "the best this country has ever seen."
Around the Web