What is one of the major festivals of the Caribbean and a unique event in the region has just ended in Guyana. But it is very interesting to visit a few other cultural destinations to look in on what else is brewing in the Caribbean at this time.
What just closed its curtains in Guyana? The largest drama festival of its kind in the Caribbean – the National Drama Festival (NDF) is over, although it doesn't really rest until the awards ceremony event on December 19. The oldest and widest is what leads to The Actor Boy Awards in Jamaica, but that takes a different form.
What has just started in Guyana?  Mashramani had its formal opening late in November and the Calypso Monarch activities are in train – they just went through the auditions and the semi-finalists have been chosen. This echoes the greatest show on earth (with apologies to Brazil) in Trinidad and Tobago, because the great carnival season is also taking off there.
Talking about carnival, one of the events that made the headlines concerns "Mr Fete" Machel Montano, who recently made his grand entry onto the big screen. You have surely heard of Bazodee, described by journalist Shelly-Ann Inniss as "a musical romance comedy with Bollywood and soca underpinnings."  But there is tradition behind it, because of soca and carnival. Montano is one of the leading performers in soca at the moment, and he dominates the stage when the queen Fay Anne Lyons is resting a while. Montano is the author of what might be his earliest, but is his most successful single hit and road march – "Big Truck". That has a lot of carnival and road march tradition going for what sounds like a simple tune, and is stronger than his current hits (like "Live Me Life" and "Mr Fete").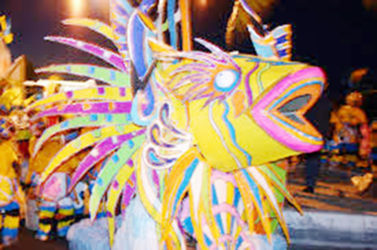 And while we are still in the line of soca and new things, another tradition has had a significant new resurgence – yet this is taking place nowhere near the Caribbean, but way across the Atlantic in France. Trinidad's veteran campaigner Calypso Rose is at the highest peak of her long career at a time when most others are retiring. Calypso Rose (who started singing as "Crusoe Kid" since she is a native of Tobago) was the first woman to win what was then the Calypso King crown in the Dimanche Gras; and the first woman to win the Road March.
Her repeated victories caused them to change the name – it is now the Calypso Monarch. Then she went on to record a praise song proclaiming what she was – "Queen of the Road". Her earliest hit was "Fire In Me Wire", followed much later by "Tempo" (her biggest) and "Come Leh We Jam". But now Rose has gone over from New York to Paris where she was so successful she put off her return to New York to fulfil engagements in Europe.  Not since the Andrews Sisters and then Harry Belafonte put calypso on the world stage in the USA with hits they plagiarized from the Caribbean has calypso has such a large audience (outside of that pulled by the Mighty Sparrow).
And this is an audience of people who might not even understand the language. (This is reminiscent of Jamaican reggae singer Desmond Dekkar who had number one hits in France and England – "Poor Me Israelite" and "A It Mek"). Calypso Rose gives a good idea of the atmosphere when she told it to writer Joshua Surtees:
"We went from Paris to Strasbourg, then to Berlin. Worked Berlin that same night. Then we flew, made two stops to change planes, and got into Brest. I had two hours rest, then hit the venue and performed to 45,000 people. . . I had to hustle, hustle . . . It was hectic. I was supposed to go back to New York since July, but more jobs keep coming in."
The Rose Renaissance includes Paris, Rouen, and a new album called 'Far From Home', set to become Trinidad's first gold album, according to Surtees. This calypsonian is 76 and has been singing since age 15.
Journeying to the Cayman Islands, there was a Story-telling Festival which ran from November 26 to December 3. Sources put its starting date at 1999 and at 2004, but it is certainly quite strong now, and is piloted by director of the Cayman Cultural Foundation Henry Muttoo. It takes the form of a series of free outdoor events in which people tell stories to audiences on beaches and at a variety of other locations as it moves around islands of Grand Cayman and Cayman Brac. This year, the feature performer was veteran dramatist and story-teller Ken Corsbie.
The names Henry Muttoo and Ken Corsbie are very well known. They are both Guyanese and foremost among theatre performers and personalities across the Caribbean. Muttoo, who hosts this festival, was an actor in Guyana – later performing as a member of "All-Ah-We", a memorable performing group from Guyana which also included Corsbie, Marc Matthews, John Agard, Eddie Hooper and Camo Williams. That group carried on the work of one of the most unique and influential theatre groups in Caribbean history – "Dem Two", made up of Corsbie and Matthews.
Muttoo then went on to be a lecturer at the Jamaica School of Drama and a foremost stage artist specialising in set design. As a successful director and designer, he then moved to Cayman. It was that kind of experience that propelled him to start this festival and make it an outdoor folk event that goes by the name "Gimistory".
Cayman's "Gimistory" has interesting productions that preceded it. There was a grand annual Story-telling Festival held at the Central Bank Auditorium in Bridgetown, Barbados that started around 1991 and ran for a number of years in the 1990s. It was directed by Corsbie while he was living there and featured storytellers from the West Indies and North America. Yet another Guyanese, artist and poet Stanley Greaves, was associated with it.
That Barbados annual event predates other such festivals that have gone down in history as the origins of the now observed World Storytelling Day. The performances held in Sweden in 1992 were said to have given rise to the annual observance of the day and the international network of storytellers who keep it going.
After carnival and Crop-Over, the next biggest revel which is focused on a parade of costumed bands is the junkanoo of the Bahamas. One may even say it surpasses Crop-Over for costume building and dare to suggest it rivals Trinidad, since the building and parade of costumes is its primary or only business, and the spectacle is great. They are now preparing for it in Nassau, but have been working for the past three or four months.
The junkanoo is held every year, twice a year – on Boxing Day, December 26 and on New Year's Day, January 1. Many groups of designers, builders and performers engage in fierce competition or the best band on Boxing Day, then compete again with different bands on show on New Year's morning. Just in case you miss it, each group has to come up with two different bands each year, taking the road with the second just one week after the first.
Each band is designed around a theme, taking a satirical look or commenting on the society.  They involve thousands of revelers on the streets with hundreds in each of the largest bands.  Nothing surpasses them for spectacle and music – each band has a very large contingent of musicians including drummers, percussionists and a range of wind instruments.
The name junkanoo is not peculiar to the Bahamas. There is a related tradition in Jamaica known as jonkunnu (jankunnu), which has a long vibrant history and a grand tradition that has faded.  The Jamaican affair is also called "maskarade" (masquerade) and this is a tradition known across the Caribbean, but only performed in Guyana with the same form as Jamaica. Although similar in name, the two theatrical performance events are different, and today, Jamaica does not have exhibitions of bands as multitudinous and flamboyant as what is to be seen on Bay Street, Nassau this Christmas.
The Jamaican maskarade, like its counterpart in Guyana, is also a Christmas time tradition and they all have the same African derivation. The name John Canoe has been put forward as the origin of the name without conclusive evidence, while more African origins were suggested by Sylvia Winter and Kamau Brathwaite who made a connection with "kunnu" associated with African spirits – quite appropriate since the original jonkunnu was a spiritual ritual. There is also the French "gens inconus"  also fitting since "unknown people" describes the fact that masquerade dancers are masked and in Africa they represented spirits/gods/deities and the dancers were not supposed to be recognised (thus "unknown").
Nevertheless, out of all of that, the Bahamian dance is very much alive though none of the spiritual origins remain. It is entirely secular revelry.
Around the Web