Hill Foot, as its name suggests, sits at the foot of a hill. To be precise, the village can be found at the bottom of the first hill on the Soesdyke-Linden Highway. Being a good mile from the Soesdyke junction, the village is sometimes referred to as One Mile.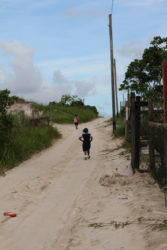 One can get to Hill Foot by taking a Kuru Kururu bus from the Timehri bus park in Georgetown or by taking a Timehri bus, getting off at the Soesdyke junction and taking a taxi from among the number of cabs parked there.
Hill Foot, a bright little village, is home to ….