I haven't been sharing too many details of my latest finds since I moved to Europe, as I am still trying to find a photographer. I hope my search comes to an end by next week.
Part of me still feels stuck in Guyana, even though I'm physically somewhere else and I must admit, the restlessness of my feelings have aided in my procrastination in finding one.
This week I wanted to share with you highlights that have come under my radar and my latest acquisitions.
The Return of Kaleen (Trinidad and Tobago)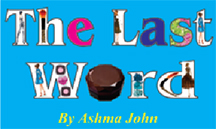 Kaleen Sanios, the Caribbean Academy of Fashion Design's Best Graduating Student of 2015 has finally made her comeback since her stellar thesis collection. To be quite frank, I found most of it quite boring. Kaleen's aesthetic is minimalism in a maximal world. Though her taste is quite simple, her past work managed to bring some sass to simplicity because of her choice of fabric and her ability to manipulate it. She really redefined the less is more mantra. Her latest collection entitled Kaishi, resembled the basic t-shirt rack at an H&M store. There is no problem diffusing the aesthetic of the brand to cater to the masses, but there is a problem when you don't strategically do it. Kaleen's brand hasn't reached the maturity level for me to say I want a basic tee from her. What I really wanted to see was her creating more of the bold, simple pieces. For me, this time around a basic tee just wouldn't cut it. The collection needed to be edited. I always tell people, the thesis collection show is probably the best time to invest in the designers, as they are under more pressure to create collections of substance.
Peta Odini (St Vincent)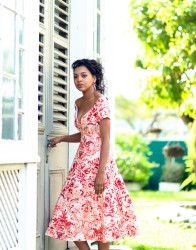 Vincentian menswear designer Peta Odini, is set to open her e-shop. This is now a trending move amongst Caribbean designers. As the buy local strategy continues to be not the cool thing to do for consumers based in the Caribbean, more designers are warming up to the idea of showcasing their aesthetic to a wider audience. Peta's designs are often worn by soca sensation Skinny Fabulous.
Jubilee x Fashion (Guyana)
Some designers are preparing to take advantage of the influx of visitors to Guyana for the Golden Jubilee celebrations. Sonia Noel happens to be one them. She has strategically planned the launching of Guyana Fashion Weekend for May 20, which will be hosted by the Ministry of Tourism. This will be followed by a Fashion Expo at the Pegasus Hotel on May 21 and 22. We can all appreciate her business savvy.
592 Dresses Collaborates (Guyana)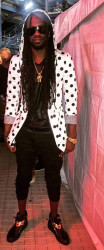 E-shop 592 Dresses is currently gearing up for its second capsule collection release which will feature collaborative efforts from local designers Roxanne King and Mwanza Mainza Glenn. The dresses are produced locally. For more on 592 dresses visit www.592dresses.com
Latest purchase
I personally haven't been buying too many items recently. My latest buy was this 50s-style dress. I think my personal style is facing a reshuffle since my move to Europe. I'm trying to be more practical with my purchases. I have even begun investing in sneakers!
https://twitter.com/theonlinerunway
Around the Web