RP Couture's Rishma Persaud has been making a splash with her one-of-a-kind elegant pieces. Her latest clothing line 'Fusion' was showcased at the recent Jubilee Fashion Extravaganza at the Arthur Chung Conference Centre, Liliendaal.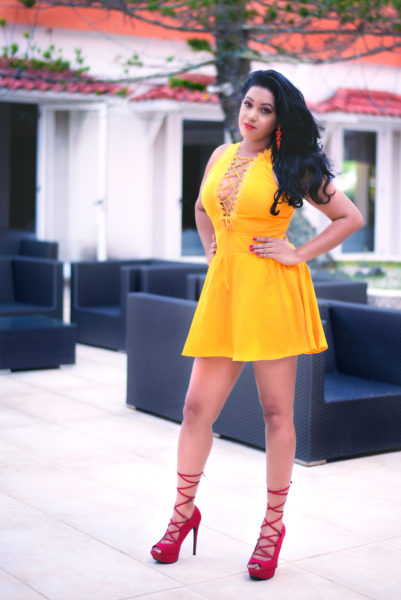 The buzz about RP Couture is not just in the streets of Georgetown but around Guyana and in the Caribbean also. The brand is also well on its way to making its mark internationally.
The designer specializes in evening and cocktail dresses, work suits, costumes, wedding and bridal party gowns. For now, she says, she is focusing mainly on designs for that one of a kind woman. However, Rishma hopes to put out a clothing line for men later this year since she's been asked umpteen times about putting her distinct touches on men's attire.
When she last sat down with The Scene Rishma had spoken of a fashion show she had done in Barbados some years ago. She has several clients in that sister Caricom country and expects to launch a clothing line there next year. Later this year she is expected to represent Guyana as a guest designer at a show in the Virgin Islands.
This is wedding and prom season and Rishma's calendar is almost booked solid. During our interview, she stopped to attend to a client who had walked in with her mother and sister. With an upcoming prom, the teenager wanted a custom-made dress. After she showed Rishma photos of a dress she wanted, the designer gave her a look up and down before sketching, with much ease, a similar dress but with a unique twist to give her that distinctive look. She then quickly explained to them the materials that would best suit the style and accessories that would be best worn to give the dress a pop. Once they understood, she left them to decide if they wanted to go ahead with her design and of course, beaming all the time, they said "yes"…..