Royden Sealey has always had a passion for art and as a child had expressed this in ways which landed him in hot water.
"I would draw in all of my books: English, Social Studies; every other page had a drawing. I used to get into a lot of trouble for it. During primary school I got into trouble for drawing in my books, the desks, the walls; I drew on almost anything," Royden said.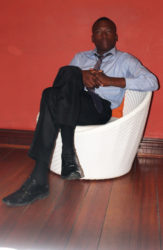 "Art was always a part of me. I used to draw more than anything else. I started from a very small age; from the moment I could draw a line I started drawing objects. My mom noticed I was very good with drawing. She said I got it from my father since he could have drawn too. It was just an ability to draw. He was an artist in his own way. He'd draw first then make like cupboards and toys. I had started drawing cartoons at first: Spiderman, Superman, Looney Tunes [characters]."
Today Royden's focus is specifically on abstract and surrealism paintings and manual as well as computer graphics designs. He also dabbles a bit in drawing, ceramics and sculpting.
In an interview with The Scene, he recalled that while at Friendship Secondary he and three other third formers took part in a Global Warming Competition under the theme 'Using forms of Energy' which was presented by Banks DIH. Their drawing depicted the use of solar panels which earned them the third place…..