Rukatuks, billed as a benefit show for actor, poet, comedian and folklorist, Henry Rodney, will blasty off this evening from 8 at the National Cultural Centre.
According to a press release from the organisers, the show will feature drama, dance, spoken word, comedy and song performed by the crème de la crème of Guyana's artistic community, of which Rodney himself is a part.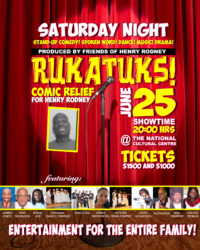 The release said that Linden 'Jumbie' Jones is slated to be the MC, while Ron Robinson will direct the show. Performers include Chow Pow, Kwesi Ace, the National Dance Company, Parika Backdam Gal, the National School of Music, Odessa Primus, Basil Bradshaw, Sean Bhola, Gavin Mendonca, Michael Ignatius and the National Drama Company.
The intention is to raise the necessary funds to enable Henry Rodney to pursue urgent medical attention overseas, it added.
Tickets cost $1,500 and $1,000 and are available at the National Cultural Centre.