Hi Everyone,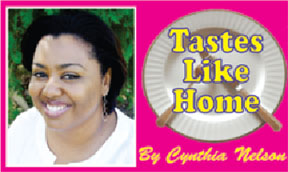 For the past few months I have been on a flat bread baking-bender. Chalk it up to one of my many food phases. I came across a Turkish flat bread, called pide (pee-DEH) and was immediately drawn to it due to its shape (long and oval), and its filling – ground lamb. I think you'll enjoy it.
According to Turkish Chef, Instructor, and Culinary Expert, Ozlem Warren, pide is one of Turkey's most popular street food and snack. She describes it as "our slow cooked fast food in Turkey". Ozlem explains that in rural Anatolia where she is from, locals prepare the fillings for the pide and take them to the bakery where they would be spread on to dough, shaped into flat bread and baked.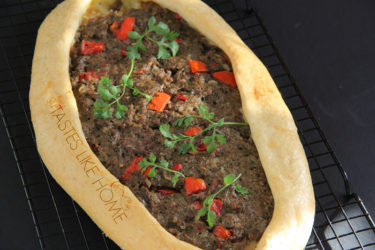 Kiymali Pide, which is the type I made, is so called because it is made with ground meat. Kiyma means ground meat in Turkish, and Kiymali means contained or cooked with minced meat. Pide can be made with a variety of fillings such as spinach/callaloo and cheese, spicy sausage meat and cheese, cured meats and cheese or veggies, or with cheese and eggs. You may think of pizza when you make pide but it is different (apart from the shape) – there is no tomato sauce and any cheese added is there for flavour rather than a major part of the topping.
In addition to the stuffed pide, there is also a plain pide, called Ramadan/Ramazan pidesi, which Elizabeth Taviloglu, a Turkish Food Expert says, can only be found during the period of the just-concluded holy month of Ramadan. Shaped by hand into a round flat bread, with a weave-like pattern at the top and sprinkled with sesame and nigella (kalonji) seeds, bakeries across Turkey provide this staple fresh and hot out of the oven an hour before the evening prayer.
If you like making breads and pizzas I think you'll like this meat-filled flat bread, or as mentioned before you can make a vegetarian filling for the pide.
Kiymali Pide
(Adapted from Ozlem Warren)
Yield: 2 breads
SPECIAL EQUIPMENT
2 (13 x 18) sheet pans lined with parchment paper
INGREDIENTS
For dough:
3 cups all-purpose flour
1 teaspoon fine table salt
4 teaspoons instant yeast
1 cup warm water (110 – 115 degrees F)
3 tablespoons vegetable oil, plus extra
For filling:
2 – 3 tablespoons vegetable oil
1 cup finely diced onions
2 tablespoons finely minced herbs (rosemary, thyme & parsley)
Minced hot pepper to taste
½ cup chopped sweet peppers
½ cup diced tomatoes (de-seeded)
Salt and black pepper to taste
1 pound ground/minced lamb (see notes)
Glaze:
1 egg
1 tablespoon vegetable oil
DIRECTIONS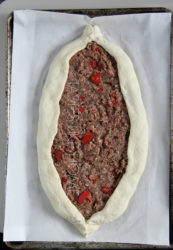 For dough:
Mix together the flour, salt and yeast. Add water and oil to form dough (you may need to add a little more water). Rub dough with oil and transfer to an oiled bowl; put somewhere warm but draft free and leave to proof for 1 hour or until more than doubled in size.
Prepare the filling while the dough is proofing.
For filling:
Heat oil in a pan over medium until hot.
Add onions, herbs and hot pepper, season with salt and pepper to taste stir to mix, reduce heat to low and cook until softened.
Raise heat to medium and add sweet peppers and tomatoes to the sautéed aromatics. Cook for 2 minutes and remove from heat. Let cool for 3 minutes and then mix in well with the raw ground meat along with salt and pepper to taste (see notes).
Assembling:
Preheat oven to 350 degrees F.
Divide dough in half and working with one piece of dough at a time, roll into a long oblong shape (10 x 18 inches) with ½ cm thickness. Transfer the dough to a lined baking sheet.
Spread half of the filling in an even layer over the dough leaving ¾-inch on either side of the dough (the longer sides). Fold the sides over the filling acting as a border. Squeeze the top and bottom tips of the dough together to make it pointy. Use a little water if necessary to seal the edges together.
Beat together the egg and oil and brush the mixture generously over the dough – sides/edges and top and bottom tips.
Repeat step # 3 with the other piece of dough and remaining meat mixture and glaze.
Transfer the pans to the oven and bake for 30 minutes until there is a light crust on the meat and the dough is golden and crisp at the edges (they should be hard at the touch). Switch the pans half way through cooking so they the bake evenly. If using a convection oven, no need to switch the pans.
Remove pans from oven and place on wire racks to cool. Serve warm or at room temperature.
NOTES
Substitute with ground beef if you cannot get ground lamb.
To determine whether the filling has enough salt, fry a teaspoon of the mixture in a pan and taste.
Cynthia
Around the Web